Azoff Music Agrees to Buy MSG's 50% Interest in Azoff MSG Entertainment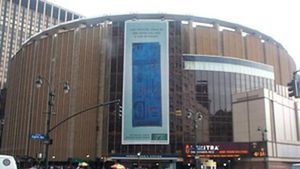 Azoff Music Management said it has agreed to purchase Madison Square Garden's 50% interest in joint venture Azoff MSG Entertainment for $125 million, a deal that comes as the group of iconic entertainment venues readies a split of its sports and entertainment assets.
After the deal is complete, Azoff MSG Entertainment will be renamed the Azoff Company. Both Azoff Company and MSG have simultaneously entered into multi-year consultancy agreements where Azoff will continue to advise MSG, including on the Forum and MSG Sphere initiative, which includes announced plans to build state-of-the-art venues in Las Vegas and London.
MSG and Azoff formed Azoff MSG Entertainment joint venture in 2013.
Madison Square Garden announced plans to split its professional sports teams The New York Knicks, The New York Rangers and others from its iconic entertainment venues like Madison Square Garden, Radio City Music Hall and the Beacon Theater in June. The company filed documents with the Securities & Exchange Commission regarding the split earlier this month and expects to complete that transaction in the first half of 2019.
"I am extremely proud that my partner, Jim Dolan, and I built an innovative company which always put the artists' and songwriters' interests first," Azoff, chairman and chief executive officer, The Azoff Company, said in a statement. "The Azoff Company will build on this foundation of positive disruption and artist advocacy: we will continue to challenge antiquated parts of the entertainment business on behalf of artists and fans. The Azoff Company is proud to renew our commitment to the Forum and MSG's transformative vision for the best possible, live entertainment experience."
MSG announced its plans for MSG Sphere in February. The first MSG Sphere venue in Las Vegas, MSG Sphere at The Venetian, is expected to open during fiscal 2021, followed by a second MSG Sphere venue, to open approximately one year later in London.
"Irving has been a valued business partner and we know that he will continue to enjoy incredible success in his company and in his continued role with us. This evolution of our relationship comes at a time when we are working to align all areas of our business to support our goal -- the creation of next-generation venues that will transform the live experience," said Madison Square Garden Co. executive chairman and CEO Jim Dolan in a statement. "We will continue to rely on Irving's relationships and expertise to help bring that vision to reality."
J.P. Morgan served as financial advisor to MSG and Centerview Partners served as financial advisor to Azoff Music Management.
Thank you for signing up to Multichannel News. You will receive a verification email shortly.
There was a problem. Please refresh the page and try again.