Madison Square Garden Makes Progress Toward Spin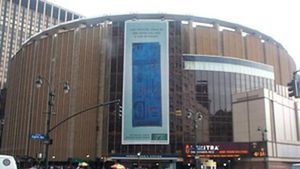 Madison Square Garden Co. filed documents with the Securities & Exchange Commission Thursday, moving forward with its plan to separate its sports businesses from its concert and entertainment venues.
Madison Square Garden said in June that it was considering a split of its professional sports teams from its concert venues.
The company said the split would "enable investors to more clearly evaluate each company's assets and future potential, while providing both companies with increased strategic flexibility to pursue their own distinctive business plan and capital allocation policy."
Madison Square Garden, headed by former Cablevision Systems CEO James Dolan, has been down this road before. In 2010, MSG, including the teams, were spun-off from Cablevision Systems. In 2015, the assets were split again, into Madison Square Garden -- which included the sports teams and venues -- and MSG Networks, which houses its regional sports channels MSG and MSG-Plus.
The Dolan family sold Cablevision to Altice in 2016.
The company said the separation would be structured as a tax-free spin-off to all MSG shareholders. Upon completion of the deal, those shareholders would receive a pro-rata distribution equal to a two-thirds economic interest in a pure-play sports company. The remaining common stock would be retained by the live entertainment company and is expected to be used to raise capital and/or exchange for the common stock of the entertainment company.
The Dolan family would maintain majority voting control of both companies through their ownership of Class B shares. The spin-off is expected to be completed in the first half of 2019.
According to MSG, the pure-play sports company would include:
• The New York Knicks professional NBA franchise and its development team, the Westchester Knicks;
• The New York Rangers professional NHL franchise and its development team, the Hartford Wolf Pack;
• The New York Liberty professional WNBA franchise, for which the Company is exploring a sale;
• Knicks Gaming, the official NBA 2K esports franchise of the New York Knicks, and a majority interest in Counter Logic Gaming, a leading North American esports organization; and
• A professional sports team Training Center in Greenburgh, NY.
The live entertainment company would include:
• Madison Square Garden, The Hulu Theater at Madison Square Garden, Radio City Music Hall and Beacon Theatre; the Forum in Inglewood, CA; The Chicago Theatre; and the Wang Theatre in Boston;
• Its bookings business, including the bookings of live sporting events such as college basketball and professional boxing, the results of which are currently reported as part of the Company's MSG Sports segment;
• Productions, which includes the Radio City Rockettes and the Christmas Spectacular, the nation's number one live family holiday show;
• Majority interests in TAO Group, a world-class hospitality group, and Boston Calling Events, producer of New England's preeminent Boston Calling Music Festival;
• Strategic entertainment joint ventures -- Azoff-MSG Entertainment and Tribeca Enterprises;
• An approximately one-third economic interest in the pure-play sports company; and
• Approximately $1 billion in cash on hand.
The live entertainment company would also continue to move forward with plans to create state-of-the-art venues – called MSG Sphere. The first MSG Sphere is expected to open in Las Vegas in fiscal 2021, followed by a second MSG Sphere in London approximately one year later.
J.P. Morgan and PJT Partners continue to serve as financial advisors and Sullivan & Cromwell LLP continues to serve as legal advisor.
Thank you for signing up to Multichannel News. You will receive a verification email shortly.
There was a problem. Please refresh the page and try again.