Aviation Group Warns Hill About Possible C-Band Interference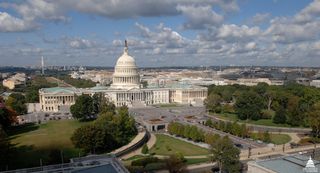 Aerospace and defense industry contractors told the House Energy & Commerce Committee and Communications Subcommittee leadership Tuesday (Oct. 29) that they need to be cognizant of the potential for interference with an auction and repurposing of C-Band satellite spectrum for 5G. 
The Communications Subcommittee held a hearing Tuesday on legislation that would mandate an FCC auction of some of the spectrum in the 3.7-4.2 GHz band, which is adjacent ot the 4.2-4.4 spectrum used by commercial and military aircraft for radionavigation. That will require some reconfiguration of users of the band, which include broadcast and cable operators who get programming feeds via the C-Band spectrum. 
In a letter to the legislators tied to a Communications Subcommittee hearing Tuesday on the issue, the Aerospace Industries Association (AIA) VP of legislative affairs, Tim McClees, told the Congress, as AIA has told the FCC, that there are potential out-of-band interference issues that need to be taken into account. 
"As Congress and the FCC look into repurposing the C-Band, it is critical to ensure that there is no interference that impacts the safe operations of commercial and military aircraft, given that that adjacent aviation spectrum is used for things like approaches, landings and collision avoidance. 
Though they concede GPS can help with positioning, a radio altimeter is crucial to altitude and what they dryly tab "terrain avoidance" for low level flight. 
FCC Chairman Ajit Pai has said he wants to vote an item on how to repurpose the C-Band by year's end, but concedes there are competing and complicated issues to work through in the process. 
The smarter way to stay on top of the multichannel video marketplace. Sign up below.
Thank you for signing up to Multichannel News. You will receive a verification email shortly.
There was a problem. Please refresh the page and try again.