YouTube Tune-Up Tunes Out DirecTV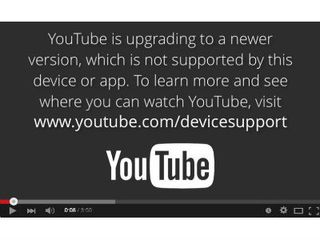 A recent update to the YouTube interface and the shutting down of an older version of the OTT platform's API has caused the app to stop working on several older smart TVs, streaming devices and set-tops.
DirecTV's Internet-capable HD-DVRs were included in that group, though it appears that the company is trying to resolve the issue. DirecTV offers several TV Apps (opens in new tab), including Pandora, weather and sports widgets, and integrations with Twitter and Facebook, on HD-DVR receivers (model HR20 or higher).
"YouTube content via the DIRECTV set-top is no longer available," DirecTV confirmed in a statement to TV Predictions. "They (YouTube) changed their technical specifications to deliver the YouTube experience through DIRECTV's and other distributors' set-tops boxes. We've had a long relationship with YouTube and will continue to work with them to find ways to restore delivering their content to our customers."
The loss of YouTube on DirecTV is also playing out on Twitter, as an apparent customer complained: "So @DIRECTV what happened to #YouTube ... You have some explaining to do #Directv"
The @DirecTVService Twitter handle responded in kind: "Hey @jedijoephx: Google is upgrading the interface. DIRECTV platforms cannot support the upgraded experience."
Google had already issued a warning via this blog post that certain devices made in 2012 and earlier would no longer be supported following an upgrade of the YouTube Data API (YouTube started to shut down the older version on April 20).
Devices that didn't make the cut included Sony and Panasonic Blu-ray players and smart TVs; the Sony PlayStation Vita; iOS devices running iOS 5 and earlier; and first- and second-gen Apple TV boxes, among others. Here's the YouTube video that consumers on those vintage devices see.
The smarter way to stay on top of the multichannel video marketplace. Sign up below.
Thank you for signing up to Multichannel News. You will receive a verification email shortly.
There was a problem. Please refresh the page and try again.