X1 Enters the Halloween Zone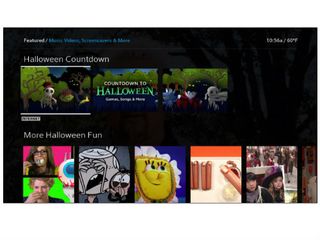 Zone TV is connecting with Comcast's X1 platform for the scary season with "Halloween Countdown," an OTT-delivered, thematic offering that features a mix of games, movies, "Spooky Tunes" (internet radio) and several karaoke titles from Stingray Karaoke.
It's not the first time Zone TV has hooked up with X1, as it also the company behind a "Santa Tracker" app/service that made its way to X1 last year.
RELATED: Comcast's X1 Takes 'Santa Tracker' Over-the-Top
As of Monday morning, Zone TV's new Halloween-themed offering had yet to appear among other featured internet apps on the X1 guide alongside Netflix, YouTube and Pandora, but it came up when "Halloween Countdown" was uttered into the X1 voice remote.
Comcast will carry Halloween Countdown on X1 through the end of the month.
The offering includes Halloween Around the World, a library of short-form videos, which Zone TV said marks its first foray into original video production, that includes a tour of Colorado's Ghost Mines and Philadelphia's Eastern State Penitentiary.
RELATED: Zone TV Uses A.I. to Program 14 Linear-Style OTT Channels
Games titles featured include The Goblin Arena and Monster Drop, while a VOD library provides direct access more than a dozen flicks, including Casper, Coraline, Frankenweenie, Monster House, and The Addams Family. Also featured are how-to videos on things like pumpkin carving and costume making.
Zone TV specializes on bringing OTT content to MVPD set-tops, and also counts AT&T/DirecTV, CenturyLink, Telus, Bell Canada and Frontier Communications as customers.
In addition to thematic pop-up channels like Halloween Countdown, Zone TV has also introduced several niche-focused SVOD services and has developed a group of curated, linear-style "dynamic channels" offering that is programmed using A.I. techniques.
Weekly digest of streaming and OTT industry news
Thank you for signing up to Multichannel News. You will receive a verification email shortly.
There was a problem. Please refresh the page and try again.