Will Arris Add Netflix To App Mix?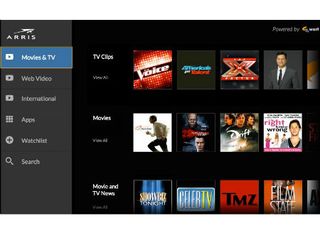 Arris isn't ready to list out all the apps that will be available via its new "Arris Market" service when the new OTT offering gets off the ground later this year, but company execs were clear that there are no technical barriers that would prevent it from adding Netflix to the mix.
But pay-TV providers that run Arris Market (a sample screenshot of it is shown above) on the vendor's Whole Home Solution, which is anchored by its six-tuner HD-DVR outfitted with a DOCSIS 3.0 modem and WiFi connectivity, will still need to secure the requisite agreements with Netflix before the streaming app can grace boxes that are leased out by pay-TV operators. Those agreements could involve, for example, that the operator join Open Connect, Netflix's private content delivery network that centers on an edge caching appliance.
Several of TiVo's U.S. pay-TV partners have already secured the agreements they need to offer Netflix on leased boxes powered by TiVo, including Suddenlink Communications, Atlantic Broadband, Grande Communications and RCN, which have also all assigned Netflix a virtual "channel" on the linear IPG lineup that tunes the user to the Netflix service when selected. Netflix still maintains the billing relationship with streaming subs who access its service on those leased boxes.
Meanwhile, Arris's emerging apps market will give it another weapon to wield as it looks to carve out more deals and compete with TiVo in the independent cable operator market. Arris will demonstrate the new offering next week at The Independent Show in Kansas City.
More about Arris Market and other tech-facing news tied to the event, put on by the National Cable Television Cooperative and the American Cable Association, will be featured in the July 28 issue of Multichannel News.
The smarter way to stay on top of the multichannel video marketplace. Sign up below.
Thank you for signing up to Multichannel News. You will receive a verification email shortly.
There was a problem. Please refresh the page and try again.