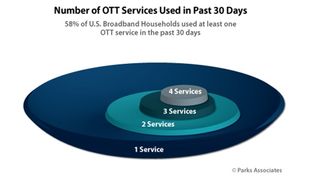 While it's no surprise that Netflix is the top OTT subscription service, a new study from Parks Associates offers a deeper view into how other services are stacking up.
The research firm's latest OTT Video Market Tracker rounds out the top 10 subscription OTT video services in the U.S., based on several data sets, including subscriber volume, consumer surveys, network traffic data and info supplied the providers themselves. Here's how the Parks list shakes out, revealing that three of the top ten come from the sports realm, and that 40% of them were launched within the last two years:
1. Netflix
2. Amazon Video
3. Hulu
4. MLB.TV
5. WWE Network
6. HBO Now
7. Crunchyroll
8. NFL Game Pass
9. The Blaze
10. Sling TV
"The number of new services and continued growth for many existing services show the vitality of the OTT video services market in the U.S.," said Brett Sappington, director of research at Parks Associates. "While Netflix holds a substantial lead, new and emerging OTT services are establishing their own place in the market."
Newcomers have indeed made strides. Among the top 10, HBO Now debuted in April, while Sling TV, Dish's OTT-TV service, launched on a national basis in February.
Though Netflix remains in OTT's catbird seat, Parks also found that more consumers are gravitating to more than one service – more than 25% of U.S. broadband homes used two or more OTT video services in the past 30 days (see chart).
Additionally, 59% of the homes studied take an OTT video service subscription that's based on a monthly fee.
Thank you for signing up to Multichannel News. You will receive a verification email shortly.
There was a problem. Please refresh the page and try again.