Wheeler's Shell Game With Set-Top Box Rules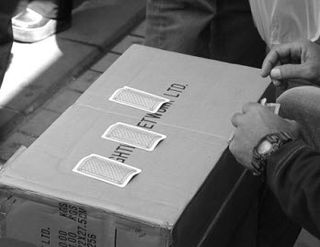 Long a favorite of street hustlers, carnival hawkers and con men, three-card monte is one of the oldest games around. According to Wikipedia, three-card monte is a confidence game in which the victim, or mark, is tricked into betting a sum of money on the assumption that they can find the "money card" among three facedown playing cards. It is the same as the shell game except that cards are used instead of shells. The chances of a mark winning are almost nil against a skilled con artist.
In an eerily similar rendition, Federal Communications Commission chairman Tom Wheeler has served up a "compromise" rule on set-top boxes. After the original proposal was met with overwhelming opposition, Wheeler retreated and reconfigured a new version of the same old rule. Much like the dealer in three-card monte, Wheeler has changed the game to appear responsive to the players when, in fact, he still holds the "money card."
What makes both of these games so interesting is the high level of legerdemain required to pull them off successfully. At the FCC, chairman Wheeler has become adept at the art of appearing to be sensitive to the public. Remember the about-face on net neutrality after listening to the four million comments from the public? The same sensitivity has been attributed to the chairman's stance on media ownership, mergers and privacy. And then there is the illusion of inclusion the chairman paints when it comes to all things diversity. But these are matters best left to another discussion.
Front and center for today is the set-top box rulemaking, which is set for a decision at the Sept. 29 meeting of the FCC. Sparing the technicalities, here is the bottom line: The new set-top box rules, as proposed, would indelibly change the advertising, content and programming ecosystem that today allows for commerce, copyright and creative protections in the delivery of video on pay television. Stakeholders from Hollywood to Capitol Hill have decried the chairman's defiance of long-held intellectual property and privacy principles, and his deference to the new technology robber barons on an issue of such consequence to both industry and consumers.
In a polite, but poignant, exchange, both Democrats and Republicans expressed concern in Thursday's (Sept. 15) Senate Commerce Committee oversight hearing. Ranking member Sen. Bill Nelson (D-Fla.) highlighted lingering contradictions on both copyright and content. Sen. Claire McCaskill (D-Mo.) noted that she had never seen such unanimity of opposition from providers and consumers, who do not usually agree. Other senators raised similar concerns over FCC jurisdiction in privacy, copyright and authority to get involved in a federal licensing regime.
In question after question, the senators wanted to know how flexible Wheeler might be in forging a meaningful compromise on set-top boxes. After all, there is universal agreement that consumers demand cost relief, and the market demands competition, as contemplated by Section 629 of the Communications Act. In answer after answer, the chairman nodded to the principles of competition and consumer choice, but appeared steadfast that his approach is best. Earlier, committee chairman John Thune (RS. D.) pointed out that Wheeler has presided over more divided, party-line, votes in three years than all other commissions in the previous 20 years combined. This, alone, would contend for the erstwhile Dubious Achievement Award.
To be fair though, chairman Wheeler has ushered in several noteworthy regulatory developments during his tenure. Although stalled at a less-than-successful stage, the spectrum incentive auction could result in a new inventory of wireless capability, which, when coupled with progress on 5G, will bring wonderful things to the consumer market. Although contentious, the Lifeline Modernization Program is regulatory rulemaking that's clearly in the public interest. And, the chairman deserves kudos for his initiative and leadership on security, global and emergency issues across all communications platforms.
It seems chairman Wheeler has the same problem as President Obama when presented a choice to sacrifice existing industries with proven track records in favor of newer, sexier and techier entrants. Broadcasters, cable and telcos have been on the losing end of many of Wheeler's most significant rules, as opposed to tech. And this has led to criticism of an anti-business — or at least anti-incumbent — bias.
When it comes to the rules on set-top boxes, the growing chorus of content creators, distributors, programmers, advertisers, manufacturers, copyright and privacy advocates deserve a straight answer responsive to their demonstrably legitimate concerns. The chairman has all the cards in hand to toss out a compromise that will allow every player in the set-top game to walk away from the table a winner.
Adonis Hoffman is chairman of Business in the Public Interest and an adjunct professor at Georgetown University. He is the former chief of staff and senior legal advisor to FCC commissioner Mignon Clyburn and author of Doing Good — the New Rules of Corporate Responsibility, Conscience and Character.
The smarter way to stay on top of the multichannel video marketplace. Sign up below.