What VR Content Do Consumers Want?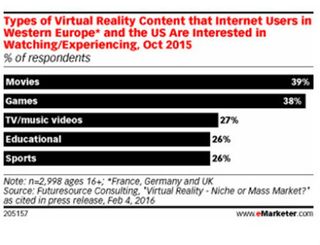 As virtual reality platforms for the high, middle and lower ends of the market continue to enter the market, there's still an ongoing debate about what kind of content will resonate in these immersive environments.
Though we're still at the front edge of the market, a new study from Futuresource Consulting (surfaced here by eMarketer) that tabulated data from about 3,000 consumers in the U.S. and Western Europe found that 39% were most interested in watching or experiencing VR movies, followed closely by games (38%), TV/music videos (27%), educational content (26%) and sports (26%). Futuresource Consulting also sees the consumer VR content market reaching $8.3 billion by 2020.
Those results speak well to the focus of next-gen VR platforms, such as the Oculus Rift, HTC Vive and Sony's PlayStation VR, which will hook into PlayStation 4 consoles. The closeness in those results should also be good news for programmers and studios that are pursuing the VR angle, including Discovery, Fox Sports, SyFy, as well as relative newcomers such as Baobab Studios, which is coming off a $6 million "A" round led by Comcast Ventures.
In other findings (also surfaced by eMarketer), Greenlight VR and Touchstone Research discovered that 79% of Gen Z (aged 10-17) U.S. Internet users were the most interested in VR, followed by Millennials (73%), Gen X (70%), and Baby Boomers (64%).
For a deeper dive into the reality surrounding the emerging world of VR, please join me on Wednesday (February 24) at 2 p.m. for an interactive, 60-minute webinar on the topic (registration is $199) with four experts and innovators in the field: Joel Espelien, Senior Analyst, The Diffusion Group (TDG); Tony Mugavero, founder and CEO, Littlstar; Andrew Trickett, co-founder, Merge VR; and Maureen Fan, CEO, Baobab Studios.
The smarter way to stay on top of the multichannel video marketplace. Sign up below.