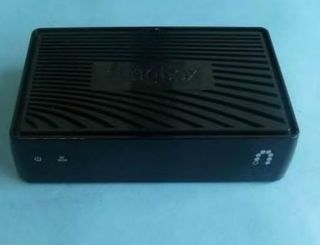 Dave Zatz of the ZatzNotFunny blog has spotted a new Slingbox model that passed through the hallowed halls of the FCC recently, meaning that its formal debut should soon follow.
Zatz, who writes that he's been tracking this new model for weeks, said he expects that the new, compact offering, dubbed the Slingbox M1, will "bring wireless capabilities to the lower end of Sling's lineup," using a "Roku-esque" design. Zatz speculates that the M1 might replace the Slingbox 350, an Ethernet-based model that supports video quality up to 1080p HD, and a model that recently debuted at retail in Mexico, and perhaps sell in the range of $130 to $150. In the U.S., Best Buy is selling the Slingbox 350 online for $179.99.
We've asked the place-shifting pioneer for comment on what will be packed into the new model, but the M1 also appears poised to provide lower-cost, WiFi-capable complement to the Slingbox 500, Sling Media's current high-end retail model, which sells for $300, sports WiFi and integrated access to the Blockbuster On Demand app and the subscription-based DishWorld service.
The new model is also coming into view as Sling Media, a corporate cousin to Dish Network, continues to take new angles into the pay-TV market. Last fall, Arris was named the exclusive source of Sling's place-shifting technology in gateways and standalone devices for cable operators and telco service providers.
The smarter way to stay on top of the multichannel video marketplace. Sign up below.