Walmart Unit Buys into VR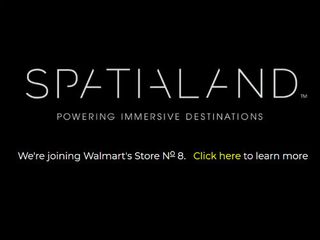 Walmart is apparently raising its virtual reality (VR) game a bit as Store No 9, the retailing giant's innovation hub, moves ahead with the acquisition of a startup called Spatialand.
Walmart and Spatialand aren't strangers, as they worked together last year to create a proof of concept virtual reality experience that took a stab at the future of shopping during the Innov8 VR event.
"At our core, we are merchandisers and storytellers which drives us to believe that virtual reality has the potential to reinvent the consumer experience—with an experience we call contextual commerce," Store No 8 noted in its announcement of the acquisition.
Moving forward, Spatialand, which has worked on projects with Oculus, Intel and Reebok, will become a new VR venture at Store No 8, with Katie Finnegan to serve as interim CEO, in addition to her role as principal of Store No. 8. Spatialand founder Kim Cooper, who has done work on films such as Rogue One: A Star Wars Story and Prometheus as well as some video game titles, is also coming on board, along with about 10 employees, according to Recode, which also points out that Walmart is making this play even as augmented reality, and not VR, has been the one gaining traction as a technology that can spur at-home shopping.

Also joining the group is Jeremy Welt, a Store No 8 consultant, who, during his career, helped Disney with its acquisition of Maker Studios, Finnegan noted in the announcement.
But don't expect to hear a lot about what's in store right away, as the new venture will operate in stealth mode for an undermined amount of time. However, the general plan is to use VR to create "immersive retail environments" for Walmart online and offline.
Some recent market data questions whether that strategy will resonate much with consumers. InMoment said its study found that 10% of consumers find VR-powered shopping experiences useful – they found other experiences, such as physical stores for online retailers (28%) and buying online and picking up in-store (46%) as far more valuable. Meanwhile, Walker Sands study from last year on the future of retail found that 8% of consumers believe that VR experiences would make them more likely to purchase products online.
The smarter way to stay on top of the multichannel video marketplace. Sign up below.