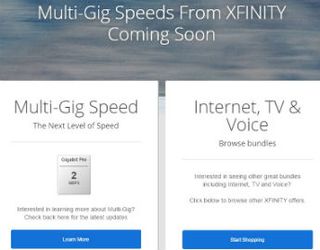 If you're a consumer in a Comcast market that's been waiting for Gigabit Pro, the MSO's new fiber-based 2-Gig service, you'll have to wait a bit longer.
"We expect to start marketing Gigabit Pro this month," a Comcast spokesman said via email. "The plan is to make it available in multiple markets simultaneously."
While Comcast has been talking up summer launches of Gigabit Pro in several markets, the original plan in some of the first announced areas tagged for the coming 2-Gig service, notably in Atlanta and parts of Florida, anticipated that the service to become available to qualified homes by sometime in May.
DSL Reports made mention of this today, reporting that a Comcast rep told a potential Gigabit Pro customer in Florida that the launch there has been "temporarily delayed." DSL Reports also got hold of some marketing material Comcast has been sending out ahead of the launch in Atlanta that included this teaser page for the new service.
In addition to Atlanta and part of Florida, including Miami and Jacksonville, Comcast has already announced that the following markets are also in line to get Gigabit Pro: Houston; Colorado (including metro Denver, Fort Collins, Loveland, Longmont and Colorado Springs); Utah; Washington State (including Seattle, Spokane, Tacoma, and Everett); Oregon; Chicago and northwest Indiana; Minneapolis/St. Paul; Chattanooga and Knoxville, Tenn., and parts of California.
Comcast's current plan is to make Gigabit Pro available to 18 million homes (those within about one-third of a mile of its fiber network) by the end of 2015.
How many of them will actually want or need a residential 2-gig service is up for debate. As for the want, that will be partly determined by how Comcast prices it. That hasn't been formally announced, either, though a promotional Web site that appeared temporarily indicated that the service would start at $299 per month. Comcast said then that pricing, including introductory and promotional rates for Gigabit Pro, were still being considered.
The smarter way to stay on top of the multichannel video marketplace. Sign up below.
Thank you for signing up to Multichannel News. You will receive a verification email shortly.
There was a problem. Please refresh the page and try again.