Wagering Against Goodell Losing His Gig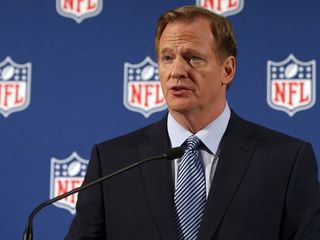 Green Bay + 2.5 versus Detroit. Seattle -5 against Denver. Roger Goodell will remain commissioner when the NFL kicks off its 2015 season, -300.
That's some of the action in Las Vegas this weekend surrounding pro football, the latter following the beleaguered commissioner's press conference in New York Friday afternoon, where he again admitted his mistake in the handling of the Ray Rice disaster and said the league was taking steps to examine, amend the personal conduct policy.
"Unfortunately, in the past few weeks, we have seen all too much of the NFL doing wrong, that starts with me," said Goodell. Pledging that he would take steps to ensure this wouldn't happen again, Goodell said he plans to meet this week with player union representatives, NFL Players Association executive director Demaurice Smith, coaches, owners and outside experts to examine the league's personal conduct policy.
The assembled press corps, smelling blood, wanted much more. CNN's Rachel Nichols was in attack mode, while TMZ announced that it got a copy of Rice's Revel elevator KO of his fiancé, now wife, Janay, with just one phone call, before querying how the league with all its power and prowess came up empty. Goodell replied: "I can't explain how you got the information, only you can."
Goodell said he's never thought of resigning and that he believes he has the support of the owners.
His performance was in parts arrogant, dismissive and defensive. Attempting to remain on his talking points, Goodell's 45-minute pitch fell flat – like a punctured pigskin. Watching on NFL.com, he looked overmatched, He was not a confident, much less a sympathetic, figure. Did his pitch win your business?
ESPN piled on afterward, with an "Outside The Lines" report indicating that Baltimore Ravens ownership and executives knew of the elevator blow by blow, and they asked for two-game suspension leniency for Rice. The club said the report was rife with errors and it will address them later this week, following the Cleveland game.
As to the odds on Goodell, Vegas seems confident that he will continue to be the NFL's leader.
Yet, there are so many external factors beyond his control. The league's internal investigation may be so much window dressing, but news organizations may uncover more smoking gun(s) about when the league and Goodell found out about tape No. 2.
More episodes of domestic violence, child beatings, drugging or worse would keep Goodell's shoes to the fire. It can't be pleasant to have to wake up and hope there aren't more NFL entries on the police blotter.
With Wes Welker and others having sustained multiple head injuries, another blow, especially accompanied by a preening DB standing over his fallen prey that ends a career, would exacerbate the league's longer-term problems.
Or worse yet, a player takes a hit and just doesn't get up.
While P&G's Crest has pulled out of a league-wide Breast Cancer Awareness Month initiative in light of the domestic violence issues, other major sponsors have rebuked the NFL for its follies, but have not hurt the shield's wallet by reducing or pulling schedules. If A-B, Pepsi or Verizon and the like decide to take their dollars elsewhere, then…But remember that mass GRPs are hard to come by.
Conducted before Friday's press conference, a NBC News/Marist poll found that while 53% of Americans surveyed "disapprove of the NFL's handling" of the events of the pass few weeks, 85% said it "will not affect how much football they watch." Moreover, only 30% though Goodell should resign.
Should multiple marketers pull their schedules or viewers leave in droves, then Goodell's reign and his $44 million annual salary would be in serious trouble.
Failing that, the smart money says Goodell keeps his job.
The smarter way to stay on top of the multichannel video marketplace. Sign up below.