Viewers Went 'Crazy' for PuppyMonkeyBaby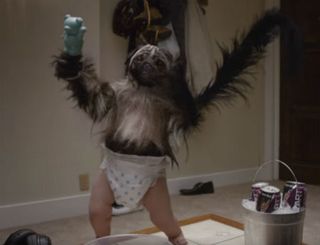 Big Data. This there anything it can't do?
By now, we've pretty much had our fill of which ads from Super Bowl 50 received the most attention during the big game, but Canvs has mined social networking data to reveal how viewers felt about those super-expensive spots.
Canvs, the New York-based startup that uses Twitter data captured by Nielsen (the game generated nearly 17 million tweets and nearly 4.5 million "emotional reactions"), said it has analyzed that info around those Super Bowl spots, enabling it to interpret the emotional response of the TV viewing audience.
Through an analysis that applied 56 different emotions to its post-Super Bowl study, Canvs found that Mountain Dew's strangePuppyMonkeyBaby ad came away with the highest rate of "crazy" reactions (38.5%), edging out Beyonce's "Formation World Tour" (28.6%).
The ad that drew the most reactions across all emotions was Doritos's "Ultrasound" spot (38,823 reactions out of 85,736 tweets – 34% of them loved the spot, and 48% found it to be funny.). Doritos's spot also came away with the most "funny" reactions (18,489), soundly beating out T-Mobile's "You Got Carriered" ad (9,553 "funny" reactions).
However, T-Mobile's ad got the most "love," generating 17,450 such reactions, ahead of Doritos (13,056 "love" reactions), Esurance (11,110), Heinz's "Weiner Stampede" (7,344) and the NFL's "Super Babies Choir" (7,083).
But does any of data actually mean anything? Canvs believes that it does, because it shines some emotional light that can't be culled from more traditional viewing metrics. As company CEO Jared Feldman explained to me earlier, an audience that is emotionally charged is more likely to remember or be more receptive to a commercial.
And advertising is just one part of it. Canvs, a bit more flush following a $5.6 million "A" round, believes its analysis provides valuable insight into how the audience feels about TV shows, and provides valuable feedback for producers and writers as they maintain and tweak story lines.
Perhaps the same could be said for marketers, which no doubt are already thinking about what kind of advertising magic they can conjure up for next year's big game.
The smarter way to stay on top of the multichannel video marketplace. Sign up below.