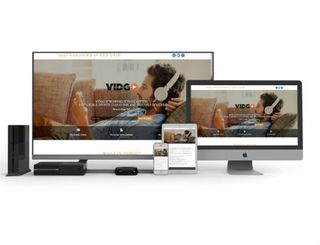 Vidgo, a virtual MVPD in the making, came out of hiding in January at CES with claims that it would soon offer low-cost pay TV bundles and VOD services over-the-top, including local TV, sports fare and premium services.
But it didn't offer much in the way then of what programming it will offer, how it will be priced, and which platforms it will support early on.
Not all the questions are answered yet, but Vidgo did shed some more light this week on what's apparently on the way.
Per its announcement, Vidgo will feature "build your own programming packages" that will include access live linear local broadcast TV channels – including ABC, CBS, Fox, NBC and PBS -- in "select initial markets" that include New York, Los Angeles, Atlanta, Chicago, Miami and San Francisco.
The service will also offer some national content from Disney/ABC, Discovery, as well as ESPN, NFL Network, and some still-unannounced local sports content.
Also on offer: first-run movies, a cloud DVR, and access on several platforms, including Roku, Amazon Fire TV, Apple TV, PCs, and iOS and Android mobile devices.
Still missing from the picture: its full programming options, pricing (it will be "affordable," which is subjective, so take your best guess), and a specific launch date. Notably, Vidgo said each of its packages will allow for multiple simultaneous device streams.
It's already delayed. In January, Vidgo said the plan was to launch its contract-free, self-installable service in 15 U.S. markets in the first half of 2016, with national coverage to follow by Q4. Former DirecTV execRobert Kostensky is Vidgo's president and co-founder, and Shane Cannon, president of Cannon Satellite TV (a Dish Network authorized dealer), is the startup's chief marketing officer.
We've reached out to Vidgo for an update and will follow up with more details as they become available.
But Vidgo is coming on the scene as OTT distribution rights continue to open up.
Among recent examples, Sony PlayStation Vue offers the local feeds of ABC, CBS, Fox and NBC in all of their respective owned-and-operated markets. Sling TV, Dish's skinny-bundle OTT-TV service, has also begun to offer local TV options in select markets.
The smarter way to stay on top of the multichannel video marketplace. Sign up below.
Thank you for signing up to Multichannel News. You will receive a verification email shortly.
There was a problem. Please refresh the page and try again.