Viasat Downplays Antenna Issue Impacting ViaSat-2's Data Performance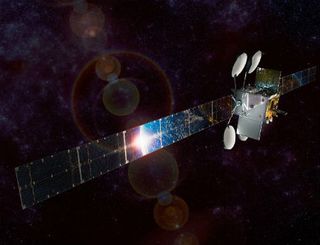 Though ViaSat-2, Viasat's new broadband satellite, is deemed "ready for service," a technical hiccup could reduce the overall data performance of the satellite by about 14%.
RELATED: ViaSat-2 Satellite Deemed 'Ready for Service'
An antenna issue, detected after the launch last June and one that's being investigated by Viasat and Boeing, could reduce the capacity of ViaSat-2 to 260 Gbps, rather than the original expectation of 300 Gbps, Viasat CEO Mark Dankberg noted on last week's earnings call.
RELATED: ViaSat 2 Launches With Big Broadband Potential
That issue caused some spot beams to perform differently than they did during ground testing, SpaceNews reported in January. However, Viasat said then that it believed that the antenna issue would not impact coverage area of the new satellite or materially impact plans services and expected financial results from the ViaSat-2 system.
ViaSat will soon start to use the new Boeing-built ViaSat-2 satellite (the image with this story is an artist's rendering of it) to help it power services that can deliver up to 100 Mbps (downstream) alongside new unlimited data plans.
"We do have an antenna deployment issue that may degrade capacity compared to the ground tests," Dankberg explained. "We and the Boeing team are working to characterize the on-orbit performance to estimate the maximum capacity of the satellite. We currently estimate the maximum capacity could be around 260 gigabits when optimized for capacity given the antenna system as we understand it."
He also offered that there are some "maneuvers" that can be done that might resolve the problem, but also acknowledged that they could make the situation worse. Viasat, he added, is working with Boeing and the insurers "to make sure that we understand the situation and that when we take those actions, they are appropriate."
That said, Viasat still expects the new satellite will at least double the typical bandwidth as ViaSat-1 and downplayed how the antenna problem will affect the expected financial modeling created around ViaSat-2.
"We didn't base our business plans on perfection…we had margin in there for problems," Dankberg said, adding that there are other parts of the network that are working better than planned.

To prepare for the capabilities coming with ViaSat-2, the company has been testing new unlimited plans on the legacy, bandwidth-constrained ViaSat-1 platform, coupled with a "video stream management" system. About 43,000 subscribers (out of about 577,000) were on those test plans on ViaSat-1 at the end of Viasat's fiscal Q3.
The smarter way to stay on top of the multichannel video marketplace. Sign up below.