Verizon Shows Sneak Peek of New Fios TV Platform at MWC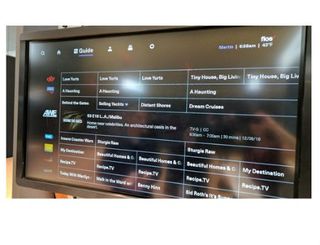 Verizon is demonstrating the next-gen, IP-powered version of its Fios TV platform at this week's Mobile World Congress confab in Barcelona, Spain, reports Light Reading's Mari Silbey.
Verizon isn't offering any official comment on the platform or its current plans to launch it, but people involved with the company's new Exponent business unit is showing off some of the goods across the pond.

[Image source: Light Reading, used with permission.]
Per the report, the new IP-based video platform and user experience will succeed its current hybrid QAM/IP approach and will eventually underpin the baseline Fios TV service and support other multiscreen devices as well as IoT apps, a strategy that is very similar to the one Comcast is using with X1. The new interface is also being made to support voice navigation, integrate OTT services and bake in other personalization capabilities.
The new platform will also implement a revised gateway/client architecture that relies on smaller devices, including a wireless client that is "about the size of a deck of cards," Silbey reports.
Verizon hasn't confirmed deployment timing, but an exec at the show told LR that it's in beta trials with an expectation that it could be launched by the end of Q1.
But the demo represents the progress Verizon has made with its next-gen IPTV system, which has tied to the company's acquisition of the OnCue assets acquired from Intel Media in 2014. At the time, people familiar with Verizon's strategic interest in OnCue said that an important goal was to secure more control of its hardware and software products and technology roadmap that would eventually power a next-gen IP video platform that would put it into better competitive positioning with Comcast's X1 platform.
RELATED: With Intel Media, Verizon Paves Path To Set-Top Independence
Variety reported earlier that Verizon was developing its next-gen platform under the code-name "Mallard" that was initially expected to launch last year. That followed earlier word from LR that a new IP client box from Verizon has passed through the FCC.
The smarter way to stay on top of the multichannel video marketplace. Sign up below.
Thank you for signing up to Multichannel News. You will receive a verification email shortly.
There was a problem. Please refresh the page and try again.