Verizon Puts Netflix on Some Fios TV Boxes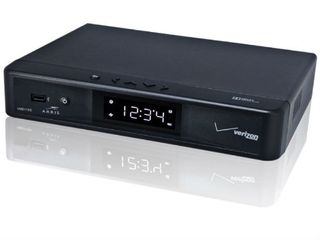 Verizon Communications appears to be the latest MVPD to integrate Netflix on its set-top boxes.
Per a support page, spotted this week by Fierce Cable, Netflix has been integrated on three models: the IPC1100P2 and IPC1100P1 (client), and the VMS1100 DVR (pictured).
Suggesting that this is a soft-launch, Verizon hasn't commented beyond what's stated on the web page, which notes that the integration includes a row dedicated to "My List" selections (broken down by genres such as comedies and dramas, though older devices may not have rows of movie categories.
Integrating Netflix and select other OTT services on the set-top box has become a common practice for MVPDs as they look to keep pay TV subs engaged their platforms and in their environments rather than having them toggle to a separate streaming player or the app store of a smart TV.
RELATED: OTT Becomes A-OK on the STB
Examples of others that have integrated Netflix on set-top boxes include Comcast, Dish Network, Liberty Global, as well as TiVo's mix of pay TV partners (including Liberty-owned Virgin Media), as well as those that are working with Espial, including WideOpenWest. Charter Communications also plans to integrate Netflix and other OTT services on its new Worldbox platform.
RELATED: Comcast Streams Netflix 4K Fare to X1 Boxes
The smarter way to stay on top of the multichannel video marketplace. Sign up below.