Verizon FIOS Offers The Gift Of Netflix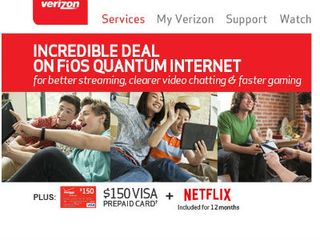 Verizon and Netflix have not always seen eye-to-eye, but the two appear to be working toward the common good in New York, where the telco is pitching a triple-play promo (opens in new tab) capped off by a full year of Netflix and a $150 Visa gift card.
BTIG analyst Richard Greenfield, who spotted the promo and has posted a video of a spot that touts the offer (registration required), said the team-up is a "[r]emarkable change for a company whose broadband subscribers had suffered poor Netflix performance until the benefits of this past summer's peering/interconnect agreement kicked-in last month."
Things between Netflix and Verizon got heated in June, when Verizon threatened to sue Netflix when Netflix temporarily was using on-screen messages that blamed ISPs by name for slow video streams. That dust-up came after the companies had struck a paid peering agreement (which Netflix says it reluctantly agreed to). However, that interconnection agreement has resulted in Verizon FiOS shooting to the top of Netflix's ISP Speed Index for the nation's largest ISPs (Netflix has similar interconnection deals in place with Comcast, Time Warner Cable and AT&T).
But this Netflix-centric promo from Verizon is temporary and geo-limited. Verizon told Greenfield that the FiOS/Netflix offer is limited to the New York DMA and is short-lived – running through November 1).
A Verizon official would only note that the telco picked New York for the trial because "of its highly competitive environment." RCN and Time Warner Cable also operate there, not to mention DirecTV and Dish Network. Verizon, meanwhile, has continued to expand its FiOS subscriber base, though at a slower rate.
And there's no commitment by Verizon to try this out in other markets, and whether this means that Verizon is eager to offer Netflix in the set-tops it leases to FiOS TV subs.
Historically, Netflix has been a stickler about requiring MVPDs to be part of Open Connect, its private content delivery network, before it will allow for direct set-top box integrations. Mediacom Communications, for example, is a TiVo partner and is interested in adding Netflix to its leased video platform, but said recently that Netflix appears to be using integration on leased TiVo boxes "as a bargaining chip in their Open Connect negotiations."
And we'll have to see if other MVPDs use Netflix as a way to draw in new subscribers. Verizon's not the only MVPD that's tried it. Earlier this year, Dish offered six free months of Netflix to customers who take its Hopper HD DVR.
The smarter way to stay on top of the multichannel video marketplace. Sign up below.
Thank you for signing up to Multichannel News. You will receive a verification email shortly.
There was a problem. Please refresh the page and try again.