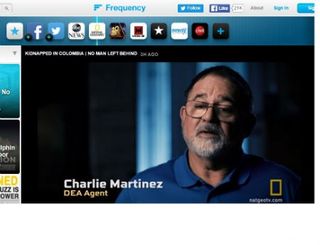 Integrating YouTube on set-top boxes is not a new thing for cable operators and other multichannel video programming distributors. Though providing integrated access to that content at the set-top can help to keep viewers engaged on the MVPD's platform, the operator isn't getting much in the way of payback.
Frequency, the Internet video startup that's backed by Liberty Global, aims to change that game a bit as it continues to shift its original direct-to-consumer business to one that licenses OTT content and delivers it to via a platform for MVPDs that are looking to stitch their traditional video services to content sourced from the over-the-top world.
"We're unbundling YouTube," Ian Aaron, a veteran of the pay TV and digital media industries and now Frequency's new president, explained, noting that the Los Angeles-based company is forging direct licenses with YouTube creators and other digital publishers that rely on YouTube.
"We're looking to expand our distribution. Just about every MVPD and mobile operator is looking at integrating this real-time web content," he said. "Today when YouTube is on an operator's platform...the operator doesn't monetize [that content]. Because we're doing these licenses directly with the top MCNs and digital brands and digital networks and publishers, the operators can monetize…We're bringing that traditional model back for the content that's really a priority for millennials and others."
Frequency has a deal in place with Liberty Global, which has already shown an eagerness to integrate YouTube and other OTT apps on set-tops, as well as another yet-to-be named MVPD.
Once a license is in place, Frequency's platform ingests and transcodes that content and enhances the metadata so that operators can allow for that content to be searched alongside its traditional content. The idea is to integrate that not just at the set-top box but also the MVPD's web services and TV Everywhere apps.
Among the angles Frequency is touting is the notion of "augmented" TV. By way of example, if a consumer happened to be watching a movie, the system would be smart enough to pull up related content associated with that title, such as trailers, studio promotions and interviews.
The smarter way to stay on top of the multichannel video marketplace. Sign up below.
Thank you for signing up to Multichannel News. You will receive a verification email shortly.
There was a problem. Please refresh the page and try again.