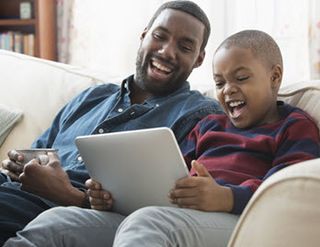 We live in a time when there is an insatiable appetite for video. Ultra short-form content is taking over with Snap, Facebook, and Instagram stories. If your children were born in the last decade, then chances are they were introduced to digital video before they could talk.

The takeaway for service providers is that the competition for eyeballs is fierce and it's only going to get more intense over the next five to 10 years. Staying on top of these trends requires a micro-level understanding of how your audience is engaging with your content. It's all possible with TV Apps.
TV Evolved
TV is evolving in a big way. It's everywhere. Yes, in our living rooms, but also in our pockets. TV means something different for the current generation than it did for us Gen Xers. It means watching what you want when you want to watch it. There are now hundreds of OTT services launching TV apps that are personalized to best suit their audiences' viewing patterns. TV at your fingertips, whenever you want it, and personalized for you? Sorry, there's no going back.
There should be no more disputing the effect that OTT is having on the cable industry, an industry that was once impenetrable from outside competition and disruption. And the cord-cutting movement shows no signs of slowing down anytime soon.
So What Defines a TV App?
A TV app delivers content to a viewer over the internet and on one of a plethora of internet-connected devices, such as Roku, Apple TV, Amazon Fire TV, and Smart TVs. An app developed and deployed on any of these devices for the purpose of delivering video to a viewer is referred to as a TV app. Netflix, Amazon, and Hulu have deployed TV apps across a variety of internet-connected devices freeing us from pre-programmed content and enticing us to "cut the cord." Whether or not you are a cord-cutter, TV apps are becoming the primary vehicle for viewing today's most popular movies and TV shows. It's important to note that "TV" is being de-coupled from the "Television" in our living rooms. TV is everywhere now.
OTT Services Are Data Driven
OTT, or over-the-top, services allow consumers to watch live and on-demand TV outside of traditional cable services. OTT services are delivered to consumers primarily through TV apps. These apps enable media companies to deliver a much more personalized viewing experience. Also, providers can create detailed metrics for tracking user behavior over the aggregate. Are viewers browsing more than their watching? If so, maybe it's time to reorganize the content. Is the user-interface intuitive enough for my target demographic? Without the proper analytics in place, providers will never know. Basic video analytics isn't sufficient, and often, the platforms that are delivering the video aren't able to capture the app-level analytical information that's required to paint the complete picture.
A Brand-Specific Experience
One of the distinct advantages of TV apps is they can deliver a brand specific experience. And for the media companies moving over to OTT, while trying to enhance engagement and viewership, this is critical. Not only do today's consumers have more control over their viewing patterns, but providers can understand more about their audiences than ever before. Also, having an app that is specific to a particular brand allows that brand to immerse the user and present information whenever and wherever possible. TV apps are a powerful platform for increasing a brand's position in the market.
Engagement and Personalization = Retention and Acquisition
What specific content drives engagement? How long are they watching? How many ads can they tolerate? If I want to have a subscription or transactional viewer, what's the proper price point? Without a firm understanding of these data points, providers will struggle to stay ahead of their audience and keeping them engaged will be next to impossible. Engagement, personalization, and a solid user-experience are required for subscriber acquisition and retention when it comes to OTT.
TV Apps Are the Last Mile
The TV App experience represents the last mile - the culmination of a tremendous amount of work that has gone into the creation or aggregation of a library of high-quality content. Business plans, product plans, roadmaps, production schedules, blood, sweat, and tears... After all that, is there any point in packaging this into a "so-so" viewing experience? Of course not.
When a media company delivers a brand-specific experience to their audience, they create a more personal connection with them which allows them to understand their needs better.
Doing It Vs. Doing It Right
The biggest barrier to the OTT market is deploying TV apps across a variety of diverse platforms. It also requires an intimate understanding of the OTT ecosystem, platform SDKs, online Video platforms (OVPs), analytics, entitlement, monetization, etc... TV Apps often require dozens of third-party services properly integrated and configured to deliver the expected experience as well as report the correct information back to the service provider.
It's like the cross-country road trip you've been planning for months - the vehicle is essential to maximize the experience.
Vendors that offer TV Apps to service providers should have a proven track record of deploying OTT-specific services. Developing the apps isn't enough—it requires a deeper understanding of the ecosystem and how the various components are needed to work together. Considering how much effort it takes to develop and or acquire engaging content, the TV App should not be an afterthought; in fact, it's the most important part of the equation.

Thomas Schaeffer is CEO of Float Left, a Jupiter, Fla.-based developer of custom TV apps. Photo by KidStock/Getty Images
The smarter way to stay on top of the multichannel video marketplace. Sign up below.
Thank you for signing up to Multichannel News. You will receive a verification email shortly.
There was a problem. Please refresh the page and try again.