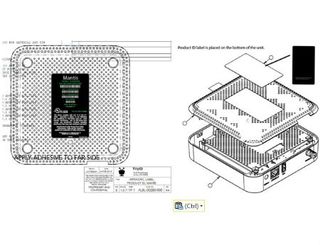 Even as its merger with Rovi nears the finish line, TiVo appears to be pushing ahead with its plans to create new retail products that aren't traditional DVRs.
Pointing to documents that recently passed through the Federal Communications Commission, ZatzNotFunny notes that TiVo is working on a new product seemingly tailored or cord-cutters called "Mantis" that is described as a "network DVR" that's capable of receiving over-the-air TV signals and transcoding them before shuttling them along to another device for viewing using a wireless or wired connection. Mantis appears to be "headless" in the sense that it does not support a direct video output.
"It looks like TiVo's version of a Tablo to me," tech blogger Dave Zatz surmises in a blog post about Mantis. "There is a USB port, so I assume that is where you plug in a hard drive for storage. So they are basically going head-to-head against the Channel Master DVR+ with their Roamio OTA and then head-to-head against Tablo with this thing."
He also suggests that TiVo could likewise be developing client apps for connected TV platforms such as Roku, Apple TV and Amazon's Fire TV.
We've asked TiVo for additional comment about Mantis, but Ira Bahr, the company's chief marketing officer, shed some light TiVo's future product roadmap last month in a post to the TiVo Community Forum that indicates a bigger reveal set for the 2017 Consumer Electronics Show:
"In order to grow, we definitely want to break the trajectory of traditional DVR. We do expect to announce something around CES in January though I don't think we're going to try to compete with the streamers directly. Most likely, the announcement will be in the form of a public beta -- which I have no doubt we will ask TCF members to participate in."
Update: TiVo is not commenting on Mantis.
Bahr also noted that TiVo will be making an at the CEDIA event on September 15, when asked if the company had plans to launch a "Pro" version of the 4K-capable TiVo Bolt that might come equipped with more tuners and storage.
In February, before the Rovi merger was announced, TiVo restructured under a plan that emphasized MVPD partnerships and less so on retail. At the time, Naveen Chopra, TiVo's interim CEO, noted that the company would apply resources toward new classes of products "that go beyond the traditional DVR."
Mantis would seem to fit the bill in that regard.
Meanwhile, Rovi has stressed that retail will remain an "important channel" for the company following its acquisition of TiVo.
The smarter way to stay on top of the multichannel video marketplace. Sign up below.
Thank you for signing up to Multichannel News. You will receive a verification email shortly.
There was a problem. Please refresh the page and try again.