TiVo Ready to 'Bolt' on Roamio?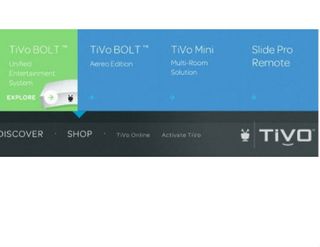 Roamio, we hardly knew ya. TiVo appears to be closing in on the launch of a new family of products that will succeed the Roamio lineup, according to a bunch of evidence that Dave Zatz of the ZatzNotFunny blog has been uncovering in recent weeks.
In addition to trademark filings, CableLabs certifications and artwork from TiVo itself, the stars are aligning to show that the DVR pioneer is gearing up to launch new products under the "Bolt" banner.
Adding to the intrigue are some promotions that include a new Roamio OTA for $49.99 and the option for a lifetime service plan for $249, down from a regular price of almost $500. That's an indication that TiVo might be looking to unload current inventory to make room for a new line of products.
"It's really quite the deal," Zatz writes. "However, the TiVo Bolt could be just weeks away…and we do anticipate it will replace the Roamio."
TiVo launched its initial Roamio product lineup in August 2013, and followed about a year later with the OTA version.
TiVo isn't commenting on what's going on with Bolt, though Zatz hears that it will involve a "substantive design refresh." But TiVo materials do indicate that there will be a flagship product under the "Unified Entertainment System" banner, as well as the TiVo Bolt Aereo Edition.
TiVo, which nabbed the trademarks and the customer lists of the now-defunct Aereo service for about $1 million in March, has been talking up plans to offer a "legal" version of Aereo… and a Bolt-branded product/redesign might be what it has in mind. Back in May, TiVo hinted that it would its announce its new Aereo-related plans sometime in July, and that time has passed.
The smarter way to stay on top of the multichannel video marketplace. Sign up below.
Thank you for signing up to Multichannel News. You will receive a verification email shortly.
There was a problem. Please refresh the page and try again.