TiVo, Philips Head Back to the Future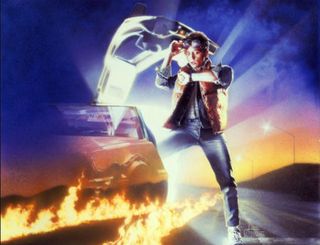 The headline was too good not to reuse, but Dave Zatz has a few more details about a DVR with integrated over-the-air TV capabilities that TiVo and Philips are developing.
 HD Guru first came across this development at CES last month, but Zatz notes that a two-tuner prototype shown at CES appeared to be reusing an old Philips form-factor,  and that the interface presented there "looks nothing like the current or upcoming TiVo UI," so it's not clear whether this was merely a "placeholder" for what will grace the final product.
But the combo marks a reunion of sorts as Philips and TiVo got together to build and market an original retail TiVo PVR, a monstrosity that was standard-def-only and used a telco return to obtain data for the guide, as well as TiVo-powered receivers for DirecTV. 
HD Guru reported that the new Philips-TiVo combo will be coming out in the fall, with pricing to be announced on what was being referred to at CES as the "Philips HD Personal Video Recorder Powered by TiVo."
TiVo, which still sells the cord-cutter-focused Roamio OTA and coming off merger with Rovi last year, is still mum on any additional details about the new Philips hook-up, but offered this statement:
"While we do not comment on our customers' product plans, TiVo does continuously work with companies to develop new products and features to create innovative user experiences and enable viewers to stay connected to their favorite entertainment."
Elsewhere in TiVo-land, The Donohue Report uncovered documents revealing some details about a new 4K DVR IP video gateway called the DCX905 that Arris has developed in partnership with TiVo and appears to be tagged for cable MSO partners. That product seemingly stems from a deal announced by TiVo and Arris in 2015.
RELATED: Arris Ties in TiVo
The smarter way to stay on top of the multichannel video marketplace. Sign up below.
Thank you for signing up to Multichannel News. You will receive a verification email shortly.
There was a problem. Please refresh the page and try again.