Timing Was Right for Rocco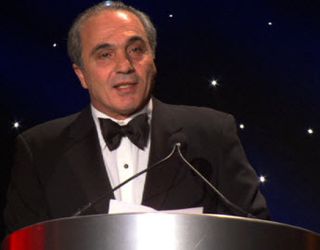 RELATED: Mediacom: 20 Years of Growth | Rocco Commisso: From Calabria to a Cable Chairmanship | Standing Up for Small Cable's Interests | Mediacom: What They're Saying
"That man," I thought to myself, "is crazy."
Not crazy in a lunatic way, but instead, crazy like my brother's eyes the day he leapt off a ramp with a 6-foot drop from a warehouse dock pedaling his bright red Schwinn when I dared him in the sixth grade.
Crazy with confidence when it came to proving wrong anyone who said he couldn't do something.
I sat thinking about this in my cramped cubicle at The Wall Street Journal, in the shadow of the old World Trade Center, where I followed the cable-TV industry as a staff reporter. I was dumbstruck by the news about Rocco Commisso starting Mediacom Communications.
The year was 1996. Telephone companies, flush with cash, were moving in to buy smaller cable operators. The Internet was a fantasy at the time, and untested. And the greatest promise of interactive-TV, as far as I could tell based on all the latest tests, was the ability to order a pizza with a remote control. The future, as they say, is unpredictable.
And Rocco Commisso, the loyal lieutenant and chief financial officer of cable kingpin Alan Gerry, was about to make a multimillion-dollar mistake. Doesn't he know … timing is everything?
I had briefly met Rocco in meetings with the affable and inimitable Gerry, a hometown-boy-made-billionaire from Liberty, N.Y., who is himself the son of immigrants and today funds, among other things, a performance arts center in Bethel at the original Woodstock site. Gerry, with a handful of other original cable cowboys, hung the wire, quite literally, that would become the beginnings of the modern cable industry.
Indeed, the really smart cable guys, or so I thought, were getting out at that point. The telcos were coming in to compete. And scale economics was about to change the dynamics of an industry the original pole-climbers couldn't yet fathom. Gus Hauser had sold his storied Hauser Communications systems to Southwestern Bell for $650 million. And Gerry himself was selling his MSO, CableVision Industries, to Time Warner Inc. Other companies like McLean Hunter, Houston Industries, Times Mirror, Wometco, Sutton Capital and Multimedia had all decided to exit the business.
How could one man start a minnow of a company among the circling sharks? In another round of cable consolidation, he'd be eaten alive, I predicted. Already by the end of 1995, 70% of the subscribers would rest in the hands of 10 companies. What was Rocco thinking?
And yet, I was wrong on many counts. Yes the cable industry got bigger, but it was only after many interactive missteps (Time Warner Cable's Full Service Network) and messy mergers (AOL-Time Warner Inc.).
The Internet — and interactive TV, for that matter — would unfold so much more differently and quickly than anyone imagined. Tablets and smartphones — not set-top boxes — would made TV interactive, and these devices themselves would begin capturing more eyeballs — and attention.
Yes, scale mattered. But over 20 years, I realize now that scale is relative. Commisso wanted to build a big cable operator, but he didn't have to be the biggest. Indeed, Mediacom became an anomaly: the largest "small cable operator" in the business.
And Commisso has proven to be one of the smartest — and richest — cable CEOs in the business. He is legendary in the financial community and blessed with a gift of numbers. Big dollar signs don't scare him. Risk isn't risk if it's properly calculated.
Mediacom went public in March of 2000 with a well-timed IPO at 18 times operating cash flow. In 2001, it doubled its size by taking on AT&T, increasing its leverage to 8.9 times cash flow, but paring that down to 4.3 times today. The company has never defaulted on a single loan — not ever — in 20 years.
Commisso never wanted an outside equity investor to control Mediacom's destiny. Weary of the short-sighted pressure on quarterly performance, Mediacom went private in 2011. By 2015, Mediacom finished the year with revenue of $1.7 billion, cash flow of $676.9 million and 2.4 million primary service units, a combination of voice, video and data customers. He's done it all with virtually the same team of executive talent — a half-dozen loyal executives that have been there since the beginning.
Twenty years ago, Rocco jumped into the business in part because of his desire to compete — he was an Olympic soccer hopeful back in the day — and to him, you're not living if you are not out playing to win.
But the young numbers whiz from southern Italy was also delivering on a dream, and a promise he made to himself as an ambitious son of a poor family pursing a better life.
Timing isn't everything.
The smarter way to stay on top of the multichannel video marketplace. Sign up below.