Things to Do in Denver After Cable-Tec Expo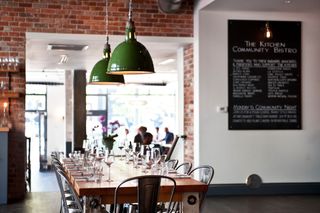 On behalf of the Jones/NCTI team, I am thrilled to welcome our cable and broadband industry colleagues to Colorado for the SCTE Cable-Tec Expo. All of us at Jones/NCTI feel fortunate to call Denver home. We hope you will enjoy the show and your time in the Mile High City while you visit.
While still sporting that Old West flair, you will find Denver bustles with urbanites and hipsters putting their mark on the city with inventive restaurants and hot spots. We made Travel & Leisure's top 10 list of America's Best Cities for Hipsters as well as Forbes's list of Best Places for Business and Careers. Plus, as one of the healthiest cities in the nation, we claim fame to some pretty good eats. Whether you're vegetarian, vegan, gluten-free, paleo, or in the mood for steak, bison, elk and international fare, a culinary adventure awaits you in our city.
Some of the city's best dining is located within walking distance of the Convention Center. Whether you are looking for a power breakfast, quick lunch, team dinner or a laid-back cocktail with views, we encourage you to enjoy some of our favorite establishments during the show.
Pre-Show Power Breakfast
Panzano
909 17th St.
On the corner of 17th and Champa Streets in the chic Hotel Monaco, Panzano is a great place to enjoy an upscale business breakfast. A favorite of locals, Panzano was described as "heavenly" by The Gabby Gourmet. Their fresh takes on the breakfast staples include omelets, eggs benedict, French toast, and a variety of regional Italian dishes, as well as an award-winning gluten-free menu courtesy of chef Elise Wiggins.
Close, Quick Lunch
Snarf's
891 14th St.
If another convention center lunch just isn't your thing, eat like you are back in college at the new downtown Snarf's Sandwiches, located in The Spire Building right next door to the Convention Center.
Snarf's began when "Snarf" Jimmy Seidel decided to open his own shop in Boulder and create the world's best sandwich. Called "The Shack" by local Boulderites and University of Colorado students, the eatery offers tasty sandwiches on homemade bread, salads, soups as well as a variety of vegetarian options.
Evening Cocktails With a View
Tamayo
1400 Larimer St., in Larimer Square
Tamayo's Tequila Bar and Rooftop Lounge are not to be missed, especially if you are looking for some of downtown Denver's best Rocky Mountain views. Relax on the sofas after a long day on the convention center floor and enjoy their selection of more than 100 tequilas and agave-based spirits, margaritas, sangrias, mojitos or other hand-muddled cocktails. Don't forget to order something from chef Richard Sandoval's modern Mexican menu featuring grilled steak, adobo pork or chicken tinga.
Team Dinner
The Kitchen Denver (pictured)
1530 18th St.
The Kitchen Denver is a perfect place to share a nice dinner and connect with your team while you are in town. This community bistro focuses on local, sustainable, farm-to-table cuisine and sources from a variety of Colorado producers. Located in Denver's historic LoDo (Lower Downtown) neighborhood, The Kitchen is bright and airy with plenty of distressed brick and wood, as well as a great bar area with a good selection of Colorado microbrews. The Kitchen Denver features a creative menu with fresh, seasonal ingredients, and be sure to try their staple, tomato soup.
Dinner Meeting
Bistro Vendome
1420 Larimer St.
If you are looking to escape the hustle and bustle of the Expo, head over to Bistro Vendome for some classic French bistro fare and a nice glass of wine with a customer or vendor on the outdoor patio. The restaurant features more than 65 wine selections, and a "Vin Maison" wine program that allows guests to select different wines to accompany their meal. From fresh baguettes served in a paper bag, to mussels, escargot, crepes and duck confit, the menu by James Beard Award-Winner Jennifer Jasinski doesn't miss. You can also walk around the corner to and visit Jasinski's other fabulous restaurants — Rioja and Euclid Hall. They are all located on Denver's historic Larimer Square.
Casual Group Meal
Wazee Supper Club
1600 15th Str.
A Denver favorite since 1974, Wazee Supper Club is your place to share a quick bite with your team after a long day. This landmark restaurant in LoDo has legendary pizza, stromboli and sandwiches. Don't forget to try the "POTUS Punch," a special drink created especially for President Obama when he stopped by just this last July. Made with vodka, lemon juice, simple syrup, mint and champagne the bar deems it a "sparkly, not-too-political punch."
Colorado Happy Hour
Wynkoop Brewing Co.
1634 18th St.
Founded in 1988 by Colorado Gov. John Hickenlooper, Wynkoop is the original pioneering brewpub in Colorado and a Denver institution. Focusing on small-batch ales and lagers made from all-natural ingredients, Wynkoop also features brewpub classic fare that is perfect for happy hour.
Stacey Slaughter is CEO and chief financial officer of Centennial, Colo.-based Jones/NCTI, a provider of corporate training to the cable and telecommunications industry. For more information, visit www.jonesncti.com.
The smarter way to stay on top of the multichannel video marketplace. Sign up below.