The Technological Legacy of Time Warner Cable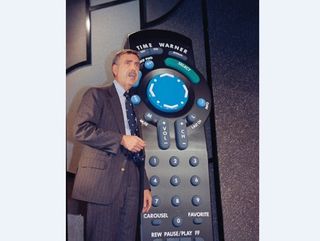 It was Sir Isaac Newton who said, "If I have seen further, it is by standing on the shoulders of giants." The same might be said of many of the companies that today comprise the television and internet universe. This is particularly noteworthy today, as some of the companies responsible for fundamental innovations in the way we connect and communicate, are being absorbed, by consolidation, into larger entities.
A quintessential example is Time Warner Cable (TWC), an enormously and historically influential cable operator that recently became part of the "new" Charter Communications.
Time Warner Cable was an assemblage of earlier, smaller predecessors, dating back to the pioneering, 1960s era of the cable television business – companies such as American Television and Communications (ATC) and Warner Cable. Co-founded in 1968 by cable pioneers Monty Rifkin and Bill Daniels, ATC and later TWC led a decades-long charge in technological innovation that created sweeping changes in the way we watch TV and access content.
As noted in the chronicle of TWC's corporate history, Making Connections, the passion for dramatic-yet-pragmatic technological advancement as a core strategic tenet was fostered by the company's visionary leaders. And many of those enhancements – some dating back 30 years – paved the way to the anytime, anything, anywhere, any-device nature of today's consumer experience.
TWC's technological prowess stems back to major projects in the 1970s, '80s and '90s: such as the seminal two-way, interactive network called QUBE, developed by Warner Cable in the late 1970s; ATC's invention of a way to use optical fiber as a principal medium for transporting signals and data in the late 1980s; and, the truly innovative Full Service Network (FSN) – a precursor to the fully-addressable 500-channel, on-demand universe – launched by Time Warner Cable in Orlando in 1994. (Pictured in a MCN file photo: then Time Warner Inc. CEO Gerry Levin with an oversized version of the FSN remote in Orlando, Fla.)
Some detail: ATC was the first cable operator (or telephone operator, for that matter) to spearhead the use of fiber optics as a method of transmitting video content. Under the leadership of cable technology pioneer Jim Chiddix, the company's Oceanic Cablevision division tested and used optical fiber during the 1980s to transport video signals, initially on the island of Oahu.
After subsequent lab testing and development, led by Senior Engineering Fellow Louis Williamson in partnership with then-supplier Ortel Corp., fiber-based video carriage was readied for implementation throughout ATC/TWC. It spread ultimately to virtually the entire cable industry, even setting the table for later entrants/competitors such as Verizon Fios.
ATC coined the term "hybrid fiber-coax" (HFC) to characterize the new technology. HFC works by threading optical fiber – known for its robust, clean and passive (meaning no amplifiers required) characteristics – in the core of the network. The fiber optic cable then adjoins to coaxial cable at nodes, and the "coax" (pronounced "co-axe") then delivers content the rest of the way to customer households.
Starting in the mid-90s and into the following decade, TWC and other cable companies invested tens of billions of dollars to deploy "two-way" HFC networks – capable of carrying transmissions both to and from subscriber households. This move enabled the delivery of interactive digital video services, as well as the introduction of affordable residential broadband service to American households. As a result of ongoing technological advancements and tens of billions of dollars of further investment, HFC networks are now delivering Gigabit Internet speeds to consumers, with the potential to expand to transmission speeds of more than 10 Gigabits per second.
Appropriately, in 1994 Time Warner Cable won the first Emmy Award earned by a cable operator – the Engineering Award for Outstanding Achievement in Technological Development, which recognized TWC's pioneering work in using fiber optics to transmit video and broadband signals. Time Warner Cable went on to win eight additional Technology and Engineering Emmy Awards in later years.
TWC's Full Service Network was a truly aspirational proof-of-concept network that was recognized in 2001 with another Technology Emmy. The FSN pioneered many of today's most popular video services: Video On Demand, full "trick-play" (the ability to mimic analog technology, with pause, rewind, and fast-forward functions), and other interactive services now commonplace in the video ecosystem and the Internet.
TWC continued its innovative contributions in the 2000s with the introduction of video service features such as Start Over® and Look Back®: Start Over to satisfy viewers who happen upon a program after it has started, and want to simply begin it from the start; Look Back to find not-yet-seen episodes of programs from the recent past, to replay them from the start.
On the capacity front, Time Warner Cable in 1991 took the earliest steps into bandwidth expansion beyond known upper boundaries -- at the time, 750 MHz -- when it stretched its Brooklyn-Queens infrastructure in New York City out to 1 GHz. The initiative, code-named "Quantum," was intended to provide the first-ever 150-channel, two-way system. This was before digital video compression had entered the scene, let alone switched digital video or analog spectrum reclamation, as bandwidth optimization strategies. The barriers included the need for a 1 GHz tuner and amplifier, neither of which existed at the time.
Time Warner Cable also spearheaded the development of the bandwidth-conserving technique known as "switched digital video," based on the premise of transmitting only content that is requested, not the full broadcast of all channels, all of the time. More recently, TWC had led the way in developing video service apps delivered to retail video boxes such as Roku, and smart TVs made by Samsung and LG. In November 2015, TWC launched the TWC TV Roku Trial, becoming the first cable operator to deliver a full multichannel video lineup via Internet Protocol (IP) through an app, to satisfy the consumer appetite for using apps to experience multichannel video.
Geographically, Time Warner Cable was also at the forefront of the concept of "clustering" of cable systems – both to achieve economies of scale, and to strategically share services, such as marketing and engineering, within geographic divisions. Beginning in the 1980s, and continuing through the ensuing decades, ATC/TWC (and many other cable companies) engaged in "system swaps" and acquisitions to further refine geographic and technological efficiencies.
The TWC family of companies also made significant and innovative contributions to the creation of unique cable content that customers love. When the QUBE system was completed in the late 1970s, for instance, TWC predecessor Warner Cable saw a need to fill up its (then-enormous!) 36-channel capacity. Together, with its parent company, TWC launched MTV and what would become Nickelodeon. Later, in 1992, TWC launched its award winning local news channel NY1, which became the model for dozens of 24-hour local news channels – run by TWC and other cable operators – across the country.
The brand and company name we have known as "Time Warner Cable" soon will be leaving our collective consciousness, so it's an appropriate time to reflect on the company's contributions -- if only to imagine what might not exist, were it not for TWC's substantial achievements. They will continue to serve generations to come.
The smarter way to stay on top of the multichannel video marketplace. Sign up below.