Takeaways From the Hispanic TV Summit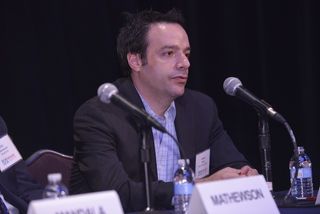 The Broadcasting & Cable/Multichannel News Hispanic TV Summit achieved standing-room overflow in some sessions. The interest and excitement about this high-growth, media-active market was evident as the audience clamored to hear experts from media brands and agencies. The deep-dive this session was sports, as this genre has super-high potential to attract the Hispanic market — not just futbol but also college football, and if you agree with the sports programmers, any programming with a timer and some kind of referee.
Consensus from the speakers revealed some more substantive perspectives: The Hispanic market is code for "the millenials"; 40% of millenials are Hispanic. Hispanics are particularly digitally savvy, over-indexing on use of mobile devices and in viewing video on mobile. Partially a dynamic of their youth it also reflects their mindset — this market loves sharing and they are amazing storytellers. YouTube created a new generation not tied to age or language, called "Generation C" (Connected?) to identify Hispanic needs and serve them better.
Through the day a debate went on about the value of and definition of a "Total Market" approach to advertising to Hispanics. Cesar Sroka (OMD Multicultural, pictured) said he's convinced that an agency's cultural and general market teams can no longer work side-by-side; rather, one person should be responsible to deliver a holistic plan that drives to one goal, across all segments, and can be operationalized. Steve Mandala (Univision Communications) said he considers a Total Market approach more of a useful philosophy to pitch to an executive suite that understands the financial opportunity of this market and doesn't want to hear about Hispanic-specific plans (or spend).
However, this Total Market approach was debated by the marketers — including Cablevision's Victor Garcia-Bory, who said he refuses to use that term. Decisions are made differently by Hispanics (such as in groups, not individuals), and their unique needs require different packages and terms (such as wanting to stay connected via WiFi to save money and rejecting long-term contracts).
What constitutes authentic marketing to Hispanics was also a key focus in the session; brands are fostering deeper understanding and portrayal of their reality:

Some great examples of using insights to evolve in new directions came from the sports world, such as:
DishLatino's Leonardo Torres said that understanding how sports fans view games while working out at the gym led to providing access on mobile devices. He said Dish Network was also the only provider to make qualifying-round FIFA games available simultaneously on split-screen so viewers would not miss a play.
CAA's Rick Marroquin cited the smart way the National Basketball Association leverages non-Latino players who speak Spanish (like Kobe Bryant) to appeal to and attract Hispanics to engage more deeply with the sport.
Mun2 President Ruben Mendiola appreciates that parent NBCUniversal is entrusting its most valuable assets to mun2 to simulcast National Football Leauge and Olympic events in Spanish. That there is limitless capacity for men (of all cultures) to indulge in all kinds of sports content and the sky is the limit for sports, as was unanimously confirmed by the five sports executives (all men) on the panel.
More examples of Hispanic market success and the implication or takeaways across panels included:
Discovery's Bilai Joa Silar busted the myth that dubbed content in Spanish doesn't work – it's been successful for Discovery, whose strategy is to lead with the best talent.
Mexicanal's Luis Torres-Bohl said programming with stories from their country of origin resonate well among Mexican Hispanics who want to stay connected with their country of origin as much as they want to connect with U.S. culture
Truthco's Linda Ong's research showed that bicultural Hispanics tend to make buying decisions for multi-generational families and, as such, are the gatekeepers even when they are not the ultimate consumers. They're heavily active in social media and share with their vibrant and large community. Linda called out the The CW comedy "Jane the Virgin," a telenovela adapted from Colombia as a "case study" example of a biculturally-targeted show (featuring a pregnant Hispanic virgin with a white boyfriend — you'll have to see for yourself) designed to appeal to those straddling cultures.
How does Sony use abundant data and turn it into insights? According to Geetanjali Dhillon (Cine Sony Television), Sony uses Facebook for creative and language testing and to study Hispanics' paths on digital products (website traffic patterns) leading to design and launch of Cine Sony, offering of Hollywood films, music and TV series, presented in Spanish.
Lynda Lopez and Paul Cuadros embodied great storytelling's universal inspiration in their production of the upcoming miniseries on NUVOtv about a soccer coach making a difference in lives of children.
Some believe there will be no Hispanic marketing ten years from now as this market will be equivalent to the general market. For now, a brand's challenge is to be relevant, to reflect the lives of a diverse, young and savvy market that's growing faster than any other.

Rachel Dreyfus is an independent marketing consultant.
The smarter way to stay on top of the multichannel video marketplace. Sign up below.
Thank you for signing up to Multichannel News. You will receive a verification email shortly.
There was a problem. Please refresh the page and try again.