T-Mobile Wants to Binge On Streaming Partners, Too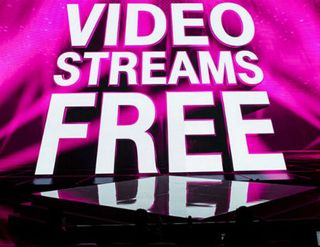 Binge On, T-Mobile's proprietary streaming offering that doesn't count against mobile usage caps that also happens to tie into the Word of the Year, bolted from the blocks with about two dozen partners, including must-haves like Netflix alongside some mocking support for Verizon's go90.
But there were plenty that are notably absent, including YouTube and Amazon. That could change if the technical and integration stars align.
Regarding YouTube, "We'd love to have them in. We're in discussions," Mike Sievert, T-Mobile's chief operating officer said at last week's "UncarrierX" event. "We're going to work really hard to do the technical integration with YouTube and every other site out there that wants to take part.
"Our doors are wide open," he added later.
Does YouTube want to take part? I've asked, but have yet to get a response.
T-Mobile spent some time explaining the program, which uses a proprietary system to deliver streaming video at resolutions of at least 480p, which provides DVD-like quality.
Neville Ray, CTO of T-Mobile US, said the company has done a "ton of work" on the ingress points into the network and "unique" packet gateways that allow the operator to identify video content. While connecting partners into the program sometimes requires some special integration, he stressed that T-Mobile doesn't need to know what the content is, just that it's video.
T-Mobile also reasons that 480p is plenty good for mobile screens, but notes that consumers can turn the option off to get content in HD, though that content would count against the cap. The mobile provider also expects that consumers will use WiFi, when available, to stream to devices, anyway.
As for Binge On's resolution, 480p is a starting point and provides "great experience" on a smartphone, Ray said, noting that the company will continue to further improve and optimize streaming for Binge On.
T-Mobile CEO John Legere urged consumers and industry-watchers to avoid getting "hung up on 480p…Get hung up on [that the platform is] going to give you DVD quality of better."
Ray also reiterated T-Mobile's stance that Binge On does not violate network neutrality rules. "There's no prioritization here at all. This is all about optimization of video."
By removing the overhead to reduce the amount of bits required to stream video, the approach is consumer friendly, and it's also network-friendly, too."
Legere was also asked if offering a free streaming offering that did not eat into data plans was bad for investors. Predictably, he thinks it's the opposite, arguing that there's a business case to support T-Mobile's approach with Binge On (in part because it could add subs).
What T-Mobile didn't shout about at the event was that it raised the price of its unlimited data plan by $15 – to $95 per month – for new subscribers.
Predictably, some of T-Mobile's competitors wonder if T-Mobile's approach with Binge On could backfire, and end up congesting its network.
"The word 'binge' is very apropos," Sprint CFO Tarek Robbiati said at last week's Wells Fargo event. "It looks like a hangover is going to come at some point."
The smarter way to stay on top of the multichannel video marketplace. Sign up below.
Thank you for signing up to Multichannel News. You will receive a verification email shortly.
There was a problem. Please refresh the page and try again.