T-Mobile Exempts Music From Cellular Caps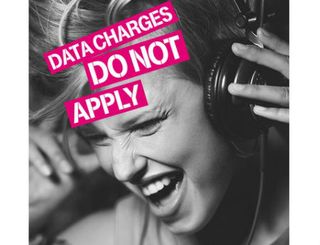 In a move that might get the attention of network neutrality advocates, T-Mobile said it will allow customers to stream music from several popular services without eating into their monthly 4G/LTE cellular data caps.
Under the new "Music Freedom" feature, targeted to customers on T-Mobile's Simple Choice plans (customers on the carrier's unlimited service tiers are already in the clear), services that are exempt from the carrier's LTE data caps include Pandora, Rhapsody, iHeartRadio, iTunes Radio, Slacker, and Spotify, as well as music services from T-Mobile partners Milk Music (Samsung) and the coming Beatport music app from SFX. T-Mobile will also ask customers to vote on its Web site and via Twitter for other services that should added to the cap-exempt list, The Verge reports.
T-Mobile doesn't charge extra when customers exceed their monthly cellular data caps, but does slow down connection speeds once they go beyond those thresholds.
T-Mobile noted that customers need to use the specific music streaming app to ensure that usage is not being applied to their data caps. "If you stream directly from a music company's website through a browser on your phone, you'll be eating into your data plan," the carrier points out in an initiative that clearly takes aim at data policies used by rivals AT&T and Verizon Communications.
Among them, AT&T is already getting some flak from Washington over its new sponsored data service that lets customers stream content from certain partners sources without it counting against their monthly data caps.
Still, it's notable that T-Mobile's new music-focused data exception plan, which factors in traffic that runs over its own cellular network and not the public Internet, does come into play as the FCC moves ahead on a new Open Internet rulemaking effort, which is looking to preserve the basic scope of the now mostly-vacated, largely wired-focused 2010 rules, while also asking if wireless should be included.
The smarter way to stay on top of the multichannel video marketplace. Sign up below.