Survey: 19% of Streaming Subs Pay for Three or More Services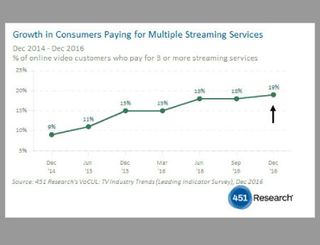 Here's some good news for the exploding SVOD arena – a greater number of consumers are paying for multiple OTT products.

RELATED: SVOD Surge (subscription required)
Some 19% of streaming subs were paying for three or more OTT services by the end of 2016, up four points from the previous year, according to a new survey from 451 Research.
The firm's latest Voice of the Connected User Landscape study, based on a survey of 1,270 people in North America, said that increased adoption speaks to the rise of consumer self-bundling, led by Netflix and Amazon Video, with additions of services like Hulu and HBO Now.
Of those who pay for a streaming service, 79% said they subscribe to Netflix, and 53% get Amazon Video, which is up 5 points in the past year, 451 Research found.
Access to movies (50%) was tops among consumer drivers, followed by access to complete seasons of TV shows (45%), a figure that has jumped 6 points in a six-month period.
About 33% said they picked a streaming service based on original content, up 8 points year-over-year, with the importance of that element rising 9 points (to 36%) for Netflix subs, and up 14 points (36%) among Amazon Video users, the research firm found.
Per the survey, 31% of Amazon Video users said original fare is the most watched type of content on that service (up from just 7% two years ago), and 32% among Netflix subs (up from 20% two years ago).
"Netflix and Amazon have spent billions creating exclusive original content to differentiate themselves within a competitive streaming TV market, and our latest surveys show that it's resonating with customers," Andy Golub, managing director of 451 Research's Voice of the Connected User Landscape surveys and research, said in a statement. "Original content has become a much more important factor over the past year in choosing streaming services, and the data shows consumers are simply watching more of it.
The study found that 41% of those who own an OTT device have a Roku streaming player or streaming stick, followed by an Apple TV device (35%), a Google Chromecast adapter (26%), Amazon Fire TV Stick (13%) or an Amazon Fire TV box (10%).
The smarter way to stay on top of the multichannel video marketplace. Sign up below.
Thank you for signing up to Multichannel News. You will receive a verification email shortly.
There was a problem. Please refresh the page and try again.