Study: 85% of Internet Users Surf While Watching TV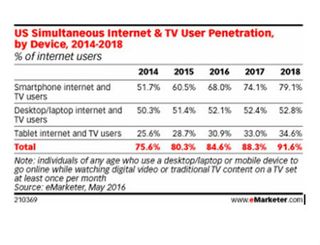 The amount of time TV viewers spend on mobile devices while they're watching continues to broaden, further fragmenting the attention of the audience, according to a new study from eMarketer.
Nearly 85% of Internet users surf the Web on a mobile device while they're watching TV at least once per month, up from 80.3% in 2015 and 75.6% in 2014, eMarketer found in its latest study on the topic. The research firm also predicts that the number will rise to about 88% in 2017, and almost 92% in 2018.
Among other findings, eMarketer said smartphones are now the device of choice for this group of multitaskers, with 146.9 million Americans poised this year to browse the web or use internet-connected apps on their phone (including chat apps) while they watch TV.
Notably, just 25.5% of simultaneous media users are consuming related content online while watching TV, according to the study.
eMarketer said this multitasking trend is also growing amid a small but increasing market of cord-cutters. This year, the firm expects to see cord-cutters grow 15.7%, causing the number of total pay TV viewers to drop 0.6%, or by 1.3 million, from last year.
Weekly digest of streaming and OTT industry news
Thank you for signing up to Multichannel News. You will receive a verification email shortly.
There was a problem. Please refresh the page and try again.