Study: 20% of U.S. MVPDs Integrate OTT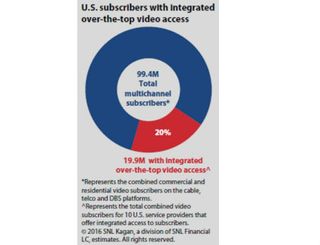 The bulk of the nation's MVPDs have yet to integrate Netflix and other over-the-top apps at the set-top level, but about 20% of them do, and the net effect of those integrations remain "inconclusive," SNL Kagan analyst Ian Olgeirson found in new study.
Examples of MVPDs that have taken the OTT plunge -- Dish Network (with offers Netflix and will soon add YouTube to its Hopper HD-DVR platform), WideOpenWest (using Arris's Whole Home Solution), as well as several TiVo partners, including Suddenlink Communications, RCN, and GCI, among others.
Cablevision, the report points out, "has taken a decidedly different path, touting access to services including Netflix and Hulu LLC as part of its non-multichannel video cord-cutter options," plus announced deals involving CBS All Access and Showtime's new OTT offering. Charter Communications, meanwhile, has not yet outlined its apps plan for its new Worldbox and cloud-powered Spectrum Guide.
But are any of these OTT integrations moving the pay TV needle one way or the other? Are they helping MVPDs gain and retain subs, or encourage cord-cutting?
"The impact of opening the door to OTT competition remains mostly inconclusive," Olgeirson wrote. "While it's clear that the group has generally suffered larger subscriber losses than the industry at large, we are unable to draw a direct line to the introduction of integrated OTT offerings."
And he said that's partly due to a market that is not acting on uniform strategies – while Cable One and Cablevision put less emphasis on video growth, Dish has "clouded the picture" with Sling TV.
"Caveats in place, it is interesting to see that with two exceptions — Midcontinent Communications' decrease of 1.2% and Atlantic Broadband Group's increase of 9%, which was due to an acquisition— all of the MSOs on our list offering integrated OTT access posted subscriber declines that were greater than the analogous declines for the full industry."
Without that acquisition (of MetroCast of Connecticut), Atlatic Broadband would have seen a decline of 0.9%, "still well below the industry's comparative 3.6% drop during the period," Olgeirson said.
The smarter way to stay on top of the multichannel video marketplace. Sign up below.
Thank you for signing up to Multichannel News. You will receive a verification email shortly.
There was a problem. Please refresh the page and try again.