Streaming Soothes Stormy Northeast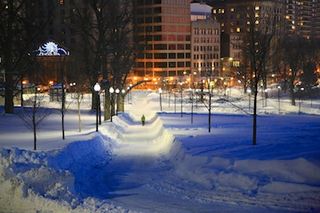 On the face of it, nobody in the Northeast was in the least bit entertained by the stormy raft of "snowpocalypse" events last month. Tuesday, Feb. 10, marked the eighth snow day cancellation of the Boston school year, as the city racked up 72 inches of snow from January to Feb. 11, the most ever recorded in a 30-day period.
But as with most dire situations, there has been an upside. A weather event like this one demonstrates the huge demand for home video consumption. As one NBC News report put it, "for 57,000 students, it was another day for sledding, sleeping in and raiding the Netflix queue."
At SeaChange — a leading video platform provider based in Boston — we see system performance that proves over-the-top and other types of video consumption skyrocketed
during the recent weather events on the East Coast. In fact, landmark rates of video-on-demand engagement with active stream percentages surged above maximum active stream rates throughout the Boston area by 88% on Tuesday, Jan. 27; 48% on Monday, Feb. 2; and 62% on Sunday, Feb. 8.
Moving south to Rhode Island, the situation was much the same. Surges extended to 129% on Tuesday, Jan. 27, and 87% on Monday, Feb. 2.
At SeaChange, employees were especially diligent about manning the fort these past weeks, knowing how important it was for customers to get some relief from the repetitive cycles of digging out, especially for those with kids at home.
And while the latest avalanche of the white stuff has precipitated a sharp spike in video consumption, it is not, in point of fact, an isolated occurrence. According to Rentrak, "electronic sell-through" of on-demand movies and TV generated $1.18 billion in 2014, up 46% from the year before; while adoption of subscription-based services such as Netflix jumped 36%, to $3.2 billion.
Moreover, industry analysts now expect VOD to explode into a $45 billion market by 2018. This represents a disruption of epic magnitude in the media ecosystem because it clearly shows that, going forward, there will be no single fountain from which to drink. Instead, media delivery will take the form of a multiplatform river with an integrated array of offshoot streams designed to meet growing consumer expectations for on-demand, time-shifted, pay-per-view and downloaded video content whenever, wherever and on any device viewers want it.
Of course, such advanced delivery capability is particularly welcome during the cold, white days Northeasterners are slipping and sliding through right now. But as hard as it may be to believe, this snowbound land will one day take on a sunnier disposition. And when that day comes, it will be the continuity of the wintry entertainment experience that "keeps the digital home fires burning" through all the ups, downs and in-betweens of life regardless of snowfall totals, UV indexes or any other weather-related indices.
Jay Samit is president and CEO of Acton, Mass.-based video software provider SeaChange International.
The smarter way to stay on top of the multichannel video marketplace. Sign up below.
Thank you for signing up to Multichannel News. You will receive a verification email shortly.
There was a problem. Please refresh the page and try again.