Sling TV Users Lead 'Cord Cheating' Trend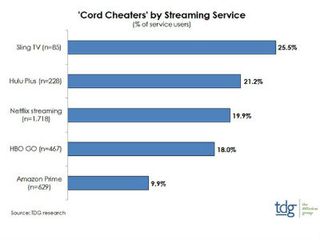 In a trend evidently led by Sling TV users, more than 20% of adult broadband customers who stream from an OTT subscription service are "cord cheaters," in that they use the credentials of someone else living outside their respective households, The Diffusion Group found in a new study.
As you can see from the chart, TDG's research found that 25.5% of Sling TV users cheat in that way, followed by Hulu Plus, Netflix, HBO Go (the programmer's TV Everywhere service; it's stand-alone OTT service, HBO Now, launches next month), and  Amazon Prime.
It's interesting data that sheds some light on the practice of password sharing, something that HBO CEO Richard Plepler has called a "terrific marketing vehicle" for the next generation of viewers, and not something that's had a material impact on HBO's business. TDG, meanwhile, said the study shows that there's an "unfortunate mindset" that sharing passwords among friends and family has become perfectly acceptable.
"While it is widely acknowledged that 'cord cheating' is occurring, few comprehend how widespread the behavior has become," Michael Greeson, TDG founder and director of research, said in a statement.
Despite the dubious honor of being on top of TDG's cord-cheating table, the recently-launched Sling TV service is somewhat protected in that it's starting off as a single-stream service. It does have programming rights with many programmers that allow for multiple streams, but it has yet to launch a tier that takes advantage of those rights. Netflix, meanwhile, makes subs pay more for multiple streams -- $8.99 per month for two streams (including HD), and a premium, four-stream tier that runs $11.99 per month (and includes access to 4K titles). Netflix's basic $7.99 per month tier is single-stream and only supports standard-def resolutions.
But I was also curious as to how TDG arrived to these cord-cheating numbers. Greeson said the research was based on a February 2015 online survey of more than 3,500 adult broadband users selects randomly from a panel of more than 3 million "double-opt-in participants. Of that group, OTT SVOD users were asked to answer statements that best describe how they access a variety of subscription based services, a group that also included CBS All Access. Those respondents then noted if they or someone in the their household subscribes to one of them, or if they use a friend's or family member's login and password.
And the cord-cheating label might sound familiar to you. FreeWheel, the online ad tech firm now owned by Comcast (not Cablevision Systems' new WiFi only phone service), uses that term in its quarterly video trends reports. But instead of using it to describe password sharing as TDG does, FreeWheel's use of the term to describe a trend in which consumers use third-party, over-the-top VOD services as an alternative to a pay-TV operator's VOD offerings, including authenticated TV Everywhere apps.
The smarter way to stay on top of the multichannel video marketplace. Sign up below.
Thank you for signing up to Multichannel News. You will receive a verification email shortly.
There was a problem. Please refresh the page and try again.