Sling TV -- Now Comes The Hard Part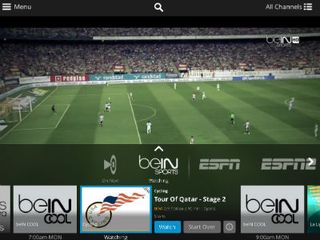 When I reviewed the Sling TV service last month, I noted that the new OTT offering worked well from a technical standpoint, tying in easy-to-use interfaces that work well across different platforms, whether on the iPad or a Roku 3. But despite those promising, tech-facing aspects of the service, a big question now is how Sling TV's content and packaging strategy will resonate with the market it's chasing after – millennials and cord-cutters – and if its lack of features like a DVR could be a big turn-off.
While the free one-week trial and a new Roku and Fire TV device bundle for customers who agree to pay for three months of Sling TV service upfront are juicy carrots designed to draw consumers to the service, it will be telling as we learn about how many decide to stick with the program in the months ahead as Dish Network posts its quarterly results (Dish will announce fourth quarter results on Monday, Feb. 23, by the way).
But a new study suggests that Sling TV has other challenges on the horizon – namely market awareness and brand confusion with the Slingbox, Sling Media's video place-shifting device.
As reported by Variety, Ipsos MediaCT found in a survey of 2,871 U.S. consumers earlier this month that just 11% were aware of the Sling TV service. More troubling is that 67% of consumer in the 18-34 age range – a group that Sling TV is trying to reach -- said they weren't interested in the product.
Lack of widespread awareness is to be expected in part because Sling TV is just getting off the ground, having announced the service at last month's International CES, followed by the national launch on Monday (Feb. 9). While Sling TV is getting lots of buzz thanks to all the media coverage, the level of consumer awareness will likely improve as Sling TV ramps up its marketing efforts.
And there are indications that Sling TV has done well early on, tellingBroadcasting & Cablelast month that "hundreds of thousands of people" had already preregistered for the service during the invitation phase. But, again, what will matter is how many of them Sling TV can convert into paying customers…and retain them.
But straight up awareness isn't the only issue, as the study also found that 44% of consumers in the 18-34 age group who knew about Sling TV said they were confusing it with the Slingbox. Keeping the brands and products separate in the consumer's mind could become increasingly difficult. And as we've wrote about in December, Sling Media will be amping up the marketing for the Slingbox this year using a campaign that takes aim at the limitations of authenticated TV Everywhere services. Also not helping is the fact that the top-of-the-line Slingbox model is called...the SlingTV, though a quick look online shows that Sling Media appear to be placing more emphasis on model's previous branding (the Slingbox 500).
Meanwhile, It seems that everyone who has kicked the tires believes Sling TV will need to evolve its programming and capabilities as it moves forward in order to be successful (check out Will Richmond's review on VideoNuze, which views Sling TV "as fundamentally an old school linear TV service, modestly freshened up with a new online wrapper," holding that the service will have a hard time gaining much traction).
But nothing's set in stone, as Sling TV's service model appears to be flexible so that it can morph and continue to change form. From the content side of the equation, adding AMC to Sling TV's core package is a good place to start. And it's hard to say if Sling TV's distributon rights will allow the service to support a cloud DVR down the road, or if Sling TV has any interest in pursuing one.
In the meantime, it certainly won't hurt Sling TV to look for ways to fill another gap – broadcast – and perhaps hook its wagon to broadband-connected DVR platforms that tie in an OTA antenna – such as TiVo's of Channel Master's – or pursue a different kind of device bundle that includes digital antennas from the likes of Mohu or Channel Master (again).
The smarter way to stay on top of the multichannel video marketplace. Sign up below.