Sling TV Brings In-App Upgrades to Roku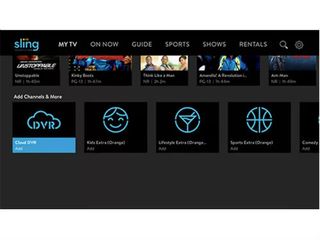 Sling TV, Dish's OTT TV service, has unleashed a mix of updates and enhancements for its app on Roku devices (opens in new tab), leading off with in-app upgrades that enable subs to purchase add-on packages, premium channels and the service's relatively new cloud DVR option.
UPDATE: Sling TV, which ended 2017 with 2.2 million subs, confirmed that it will roll out these features to other supported TV-connected platforms such as Amazon Fire TV, Apple TV and Android TV at a future date, but here's a quick rundown of what else is part of the Roku upgrade:
-Add VOD to MyChannels: Subs can add VOD "channels" from programmers such as Nat Geo Wild and Fandor, as well as from NBC and Fox (for Sling Blue customers who don't live in a market where the local live TV feeds from those networks are available.
-Quicker access to channels set as "Favorites," indicated by a heart in the guide, which are now appearing first at the top of the service's grid guide and on the left of the channel guide, and the new Micro Guide.
-A new Micro Guide that that reduces the size of the guide that appears while a sub watches a show.
-Updated arrow controls that are part of the updated full-screen video navigation functionality. Pushing up on the D-pad will bring up the Micro Guide, and pushing down on it will call up the old guide.
-Safe Exit: Pressing the exit button on the Roku remote will issue a pop-up that gives subs the option to go back to their show or movie instead of leaving the service.
-Binge On: In an apparent homage to a term originally coined by T-Mobile, the updated player view for Sling TV on Roku will automatically go back to a show's "franchise page" after they've completed an on-demand show title.
The smarter way to stay on top of the multichannel video marketplace. Sign up below.
Thank you for signing up to Multichannel News. You will receive a verification email shortly.
There was a problem. Please refresh the page and try again.