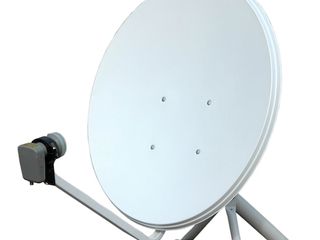 Influential media analyst Craig Moffett, principal and senior analyst at MoffettNathanson raised his rating on Dish Network to "neutral" from "sell," adding in a note to clients that the satellite giant's stock price may be closer than ever to its true value.
Dish stock has been pummeled over the past year – Moffett wrote that it has underperformed the S&P 500 by 50 percentage points over the past 12 months and has registered new 52-week lows almost daily over the past several weeks. But now, with the stock hovering in the mid-to-low $40 per share range since February, Dish may be the closest it's been in years to its true value.
"The case for an upgrade (to Neutral, that is, not to Buy) is relatively simple," Moffett wrote. "Dish was badly overvalued. It isn't anymore."
Dish shares were up slightly on March 22 – they were priced at $38.11 each, up 34 cents or 1% in early trading.
Moffett said at its current price range – he has maintained his $37 per share 12-month target on the stock – Dish's wireless spectrum (its biggest valuation source) is valued at about $1 per MHz POP, which is what Moffett believes it would attract in a sale. Dish has accumulated a wide swath of spectrum over the past few years, and speculation has been that other wireless companies, hungry for more bandwidth, would either by Dish's wireless licenses or the company itself. When it became apparent in the past year that that was unlikely to happen, Dish stock started to falter. Investors became increasingly skittish when chairman Charlie Ergen made moves to build out that spectrum – it needs to reach 70% of its licensed areas by the end of 2020.
In his report, Moffett wrote that the spectrum buildout has its own questions – will Dish be able to complete it in time to meet federal deadlines, will it cost more or less than the $1 billion Dish has estimated and will it have to take on a JV partner to complete it? Add in the declining satellite TV business and the picture looks increasingly grim.
Satellite TV has been under pressure for years – DirecTV, purchased by AT&T in 2015 reported its first full year of net subscriber losses in 2017. And chances are those losses would have been sooner if AT&T hadn't been encouraging U-verse TV users to switch to satellite.
Related: Small Dish, Deep Decline
To his credit, Ergen has been more candid than most CEOs about the decline of the satellite business – he has been saying it is maturing for years – and has tried to address shifting viewing habits with smaller video packages – like Dish's Flex Pack – and its own over-the-top service Sling TV. Sling TV, which was launched in 2015, has about 2.2 million subscribers and is currently the largest subscription OTT service in the U.S. (DirecTV Now is a close second with about 1.5 million customers).
And Ergen is no stranger to gloom and doom predictions – he has weathered them before and managed to dazzle investors with new products or lines of business (RE: The Hopper, Sling TV, wireless spectrum). There is no reason to think he can't pull a rabbit out of his hat again. But, he'd better hurry.
The smarter way to stay on top of the multichannel video marketplace. Sign up below.
Thank you for signing up to Multichannel News. You will receive a verification email shortly.
There was a problem. Please refresh the page and try again.