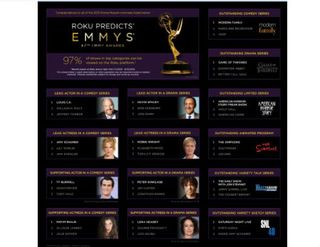 Like so many people, my household fills out ballots each year for two of entertainment's biggest entertainment awards events – the Oscars and the Emmys.
I'm terrible at it. The last time I came away the victor was 1997, when Sling Blade won for Best Writing, Screenplay Based on Material Previously Produced or Published. I'm not even joking. It's been that long.
So given my poor track record, perhaps I'd be better off throwing darts. Or maybe I should consult with the data mining capabilities of the all-mighty Roku platform.
Ahead of Sunday night's 67th Annual Primetime Emmy Awards on Fox, to be hosted by Andy Samberg, Roku sent along its predictions, based on the streaming platform's search platform.
More specifically, it sifted through aggregated data from customer use of the Roku Search feature (it now searches across 20 streaming sources (opens in new tab) including Netflix, HBO Go, Crackle, Vudu, M-GO, Starz Play, Hulu, and the TWC TV app, among others) from January 1, 2015 to August 31, 2015 to predict winners in major categories.
Of the major categories reviewed, Roku said about 97% of the Emmy nominated shows are available for streaming on the Roku platform…so a big yea for Roku.
Based on the Roku search data, here are the predicted winners :
Outstanding Comedy Series – Modern Family
Outstanding Drama Series – Game of Thrones
Outstanding Limited Series – American Horror Story: Freak Show
Outstanding Animated Program – The Simpsons
Outstanding Variety Sketch Series – Saturday Night Live
Lead Actor in a Comedy Series – Louis C.K.
Lead Actress in a Comedy Series – Amy Schumer
Lead Actor in a Drama Series – Kevin Spacey
Lead Actress in a Drama Series – Robin Wright
Supporting Actor in a Comedy Series – Ty Burrell
Supporting Actress in a Comedy Series – Maiyam Bialik
Supporting Actor in a Drama Series – Peter Dinklage
Supporting Actress in a Drama Series -- Lena Headey
I'll follow up Monday to grade out how Roku's search-based predictions panned out.
Thank you for signing up to Multichannel News. You will receive a verification email shortly.
There was a problem. Please refresh the page and try again.