SCTE Reels in Success for Cable Industry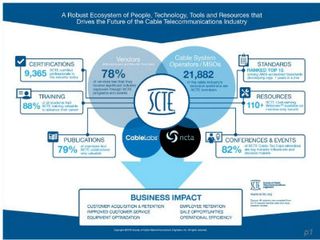 Take it from a lifelong fisherman: Building an organization is a lot like hooking a marlin. It takes patience, strategy, tenacity, luck and contributions from those around you to get to that pivotal moment when you know you're on your way to landing your prize.
That's the way I feel this year about SCTE. After years of hard work, planning and commitment from our team and our supporters, we're in the midst of a transformational year. If we were off Hatteras, this is the time when I'd be getting ready to bring the catch aboard.
Our transformation isn't as dramatic as a man-vs.-fish struggle, but you can see it everywhere: In the new positions we've created at SCTE and the quality of the executives who are filling them. In the unprecedented expansion of the training and education services we're providing, including the internationalization of operations. And, of course, this week at the SCTE Cable-Tec Expo — in the exhibitor hall, in the conference rooms, at SCTE Central.
Let me be clear, SCTE's fundamental mission is the same as ever: to create and implement the training, the certification and the standards that create value for our members and accelerate service delivery and service quality for the industry. A study of members earlier this year showed that SCTE creates business impact in six areas: Custom acquisition and retention; improved customer service; operational efficiency; employee retention; sales opportunities; and equipment optimization. But as the cable industry keeps rapidly growing and evolving, how we accomplish our mission has changed.
Over the past year, we've had the opportunity to make many changes. Every one of them has been mapped against the needs of the industry so that everything we do as an applied science organization can deliver maximum impact for our operator and vendor partners and, of course, our individual members.
Here's a short list of what we've accomplished:
- We've hired nationally-acclaimed executives such as Reni Gorman and Terry Maloney, who are bringing exciting new approaches in professional education and marketing, respectively;
- Our training and certification regimens are enjoying unprecedented success, including an increase of almost 150% in course registrations and the continued expansion of training for the global market under the International Society of Broadband Experts (ISBE) banner; and
- SCTE Cable-Tec Expo will be electric — pardon the pun — as it conveys the leaps and bounds by which our industry is increasing its competitiveness, most notably in the management of power consumption and cost through our Energy 2020 program.
To be clear, reeling in this transformation has been a cumulative effort. In training, for example, we'd already established the value of SCTE certification. Through our study we learned that 88% respondents found SCTE training valuable in advancing their careers. And Suddenlink encourages all of its technical employees to become members and take advantage of the SCTE's training programs. The company believes that a better-trained workforce leads to smoother operations, more satisfied customers and ultimately helps with employee retention.
With the arrival last year of Lindsay Johnston, our senior vice president of operations, we've looked at ways of improving, replicating and quantifying the value of our programs, and at developing new opportunities — specifically under the umbrella of our Corporate Alliance Partner program. Among Lindsay's projects: working with experts such as Reni who are knowledgeable about how people learn, and using those findings to improve our courses and shape our educational materials; continuing to improve the experience at our SCTE-Tuck Executive Leadership Program and SCTE-Georgia Tech Management Development Program programs that are grooming the next generation of cable technology leaders; and using the six-sigma process to improve how SCTE operates and provide greater utility and value for our members.
With our new training methodologies, we expect to be able to start confidently correlating SCTE training with business results within the next 12-18 months. We'll then be able to use the same quantitative techniques to fine-tune our training and continue to contribute to the success of our members and our corporate sponsors. This will be a big win for everyone.
On the engineering front, we continue to ramp up our technology expertise as we move from an organization that had no engineers just five years ago to one that has become a trusted applied science resource for the industry today.
The transformation here is happening in several ways: The transition of Daniel Howard to SCTE Fellow has enabled us to continue to leverage Daniel's technical genius, while opening the door for a new CTO who will oversee our Standards Program, our Engineering Committee and our involvement in Energy 2020. At the same time, we have hired Niem Dang, a highly acclaimed member of the Time Warner Cable team, to serve as our first visiting engineer at CableLabs. Niem's job will be to make sure that our two organizations remain consistently aligned for the good of the industry.
The good of the industry also is driving the work SCTE has taken on as the point organization for cable's Energy 2020 program, which aims to achieve double-digit percentage reductions in energy cost and consumption. Energy is one of the largest line-item expenditures that MSOs have. SCTE and its members are ramping up our efforts to guarantee that energy consumption and energy costs will not impact the industry's competitiveness in the future.
If cable is notable for anything, it's headlong progress. It wasn't that long ago that cable companies were video-only operations.
Now MSOs offer broadband, VoIP, business services, home automation services, wireless connectivity and more product categories are on the way. We've begun to work more closely with individual vendors on training programs that will help our corporate and individual members become more adept not only with the generic properties of new technologies — DOCSIS 3.1 is a good example — but with each manufacturer's specific implementation of those technologies. And, of course, we continue to seek new ways to globalize that training under ISBE, the international gateway to SCTE's vast library of educational and certification resources.
Reeling in a big fish is never easy, but it's always an exhilarating ride. In the same way, SCTE's journey to a higher plane of technical leadership has rewarded unflagging commitment with a true sense of accomplishment. And as with any good angler, there's the anticipation of knowing that there is more to be achieved in the future.
--Mark Dzuban is president and CEO of the Society of Cable Telecommunications Engineers (SCTE)
The smarter way to stay on top of the multichannel video marketplace. Sign up below.
Thank you for signing up to Multichannel News. You will receive a verification email shortly.
There was a problem. Please refresh the page and try again.