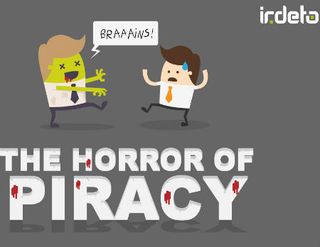 With Halloween just around the corner and consumers increasingly likely to tee up some scary movies and TV shows to amplify the mood, digital security specialist Irdeto took a look at what titles from the horror genre are most attractive to pirates.
AMC's The Walking Dead has the dubious honor of being the most pirated TV show in the field, generating 44% of total TV downloads, Irdeto said in its report, based on its tracking of BitTorrent and OTT piracy traffic from October 14-23.
Following The Walking Dead was FX's American Horror Story (28%), Showtime's Dexter (10%), NBC's Grimm (9%), The CW's iZombie (7%) and Netflix original Hemlock Grove (2%).
But zombies didn't lead the way by piracy category. Ghost-themes titles (54%) led, then came zombies (27%) and slasher movies and TV shows (18%).
On the movie side of the digital piracy ledger, Insidious (16% of horror-genre downloads) was tops, Poltergeist (10%), The Shining (9%), 28 Days Later, Hotel Transylvania, The Exorcist, Saw, Shaun of the Dead, and Paranormal Activity.
Oh, and Irdeto did all of this with a message in mind for pay TV and OTT service providers– this data can help them put forth content that consumers are seeking during this frightening period, and perhaps put a damper on piracy.
"As scary as this sounds, piracy data can help pay TV and OTT operators understand what their customers demand and may not have legal and affordable access to," said Rory O'Connor, VP, services at Irdeto, in a statement. "By looking at spikes in piracy, you can determine the most advantageous content, timing and format for your video service offerings in specific markets. For instance, consumers in the United States gravitate to older horror flicks that generate nostalgia around Halloween. It is quite possible for older video content to rise from the dead during key points of the year."
O'Connor also reasons that Hemlock Grove isn't a big target for piracy due to Netflix's binge-friendly approach of releasing all episodes in a season at once.
The smarter way to stay on top of the multichannel video marketplace. Sign up below.
Thank you for signing up to Multichannel News. You will receive a verification email shortly.
There was a problem. Please refresh the page and try again.