Samsung Leads 4K TV Charge: Study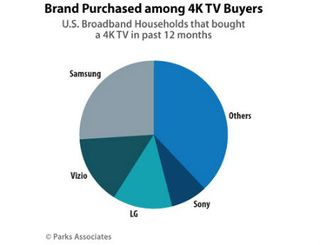 We'll know more about the 4K TV market trends following the holiday buying frenzy, but through the middle of 2015 Samsung led the way among U.S. broadband homes, according to new data from Parks Associates.
Samsung, the firm said, accounted for 28% of 4K TV purchases made within the past year by U.S. broadband homes, while Best Buy was the top retailer, capturing more than 40% of 4K TV purchases.
Among other brands, 17% of consumers who bought a 4K TV in the past 12 months got one from LG Electronics, followed by Sony (13%), and Vizio (11%).

As for consumer pickup, 8% of U.S. broadband homes will buy a 4K TV this year, Parks Associates predicts.
Broken down further, 19% of U.S. broadband homes intend to buy a flat-panel TV by the end of 2015, and about 40% of that group are looking to score a 4K TV, while 42% of U.S. broadband homes indicate that they aren't familiar with the new eye-popping platform.
"For both flat-panel purchasers and the subgroup of 4K TV purchasers, 44% made the purchase after seeing the product for a good price, so the major purchase motivator for flat-panel and 4K TVs was not substantially different," Barbara Kraus, director of research at Parks Associates, said in a statement. "However, 11% of 4K TV purchasers were motivated to buy after learning about the TV's features, compared to 3% of flat-panel TV purchasers."
Kraus said content remains a "key inhibitor" for 4K adoption, noting that she also expects to see lower cost 4K TV technologies, including 4K-capable disc players and sets with on-board high dynamic range (HDR), emerge next month at CES 2016 in Las Vegas.
The smarter way to stay on top of the multichannel video marketplace. Sign up below.