Sales Of Fire TV Stick Off To Hot Start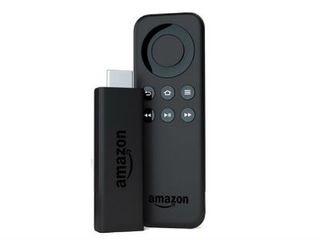 I already have more TV streaming devices than televisions in my household, but I couldn't resist taking the bait just hours after Amazon presented its two-day special offer on the new Fire TV Stick – just $19 for Prime members.
Google turned the Chromecast into an impulse buy using a $35 price tag when it launched its adapter last July, and Amazon is doing much of the same here with its new HDMI-connected device, but it's also offering a sizable discount to its loyal base of Prime subs (the regular price on the Fire TV Stick is $39).
Amazon hasn't released any sales figures for the original Fire TV box (other than to say it's "very happy with the success of Fire TV"), and it likely won't be offering any on the new Fire TV Stick (but I went ahead and at least asked).
Still, it appears that sales of the Fire TV Stick are off to a good start. When I placed my order this morning (at about 1:20 p.m. ET today), Amazon noted that "orders placed today are expected to ship after the release date" of November 19, citing "popular demand." As a side note, Amazon is limiting those orders to two per customer.
For me, that means the delivery date for my order is expected to be Dec. 4, 2014, so it'll be a little while before I get to see how well this new product performs. In the meantime, our household has been pretty happy with our little batch of speciality streaming gizmos, which includes the Chromecast, the Fire TV box, and the Roku Streaming Stick.
While it's still too early to call the Amazon Fire TV Stick a hit, the new product appears to be off to a blazing start.
Update: As the deadline approached for Prime members to get in on the $19 deal on Tuesday (October 28), Amazon was telling site visitors that pre-orders placed today won't show up until sometime after Christmas. It has also placed an even stricter limit on the number of Fire TV Sticks that customers can put on order. "Due to popular demand, orders placed today are expected to arrive after January 1, 2015. See delivery date at checkout. Limit one per customer," Amazon notes.
Small, inexpensive streaming devices apparently carry big demand. As a reminder, Google underestimated the initial demand for the Chromecast, which caused retailers such as Amazon to quickly run out of stock and for Google to nix a promotion that offered three free months of Netflix with each Chromecast purchase.
The smarter way to stay on top of the multichannel video marketplace. Sign up below.