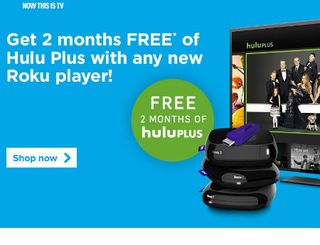 Looking to amp up its own user base while doing the same for one of its OTT partners, Roku has launched a promotion that offers two free months of Hulu Plus to customers who buy any new Roku player by September 30.  
According to the fine print of the just-launched promo – available, of course, only to new Hulu Plus subs -- consumers can partake by activating a new Roku player (from the new $49.99 Roku Streaming Stick on up to the $99.99 top-of-the-line Roku 3 model) through September 30. Once the device is activated, Roku will send the user an email with details on how to redeem the free Hulu Plus offer.
Luring users to streaming players using free OTT video offers is now part and parcel to the game as the market continues to heat up. Google offered three months of Netflix with the purchase of the Chromecast when it launched the streaming adapter last summer, then had to quickly nix the promotion due to overwhelming demand. Amazon, meanwhile, meanwhile, is trying to prime the pump for its new Fire TV by pairing sales with free 30-day subscription to its Prime service, which includes access to a vast streaming video library. 
But expect more offers such as this one from Roku as makers of OTT video players, including Amazon and the expected influx of devices that will be powered by the new Android TV platform – continue to jockey for position.
For its part, Roku has shipped about 8 million device sin the U.S., but hasn't released any international shipment figures. Last week, Parks Associates said that Roku was the best-selling streaming media device in the U.S. last year,  outpacing domestic sales of the Apple TV.
If the Roku promo is successful, it could provide a bit of a bump to Hulu Plus, which recently surpassed the 6 million subscriber mark and just announced that it would become the exclusive streaming VOD home for the irreverent South Park.
The smarter way to stay on top of the multichannel video marketplace. Sign up below.
Thank you for signing up to Multichannel News. You will receive a verification email shortly.
There was a problem. Please refresh the page and try again.