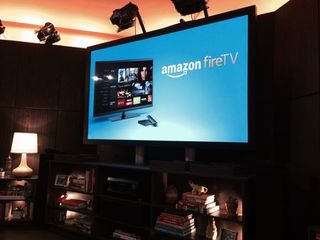 Amazon's new Fire TV video streaming/gaming machine, at $99 each, is probably on the cusp of an impulse buy, and one that might give consumers pause before pulling the trigger on making a purchase.
"It's definitely on the upper end" of the market, Colin Dixon, chief analyst and founder of nScreenMedia, said a few hours after Amazon unleashed its new video streaming and gaming machine, sharing in the surprise that Amazon didn't subsidize its multifaceted product more heavily out of the chute.
The $35 Chromecast "is a no-brainer. You just buy it," he said, extending a similar opinion ot the new $49.99 HDMI stick from Roku.
"I don't think it will be a barnburner like the Chromecast is," Dixon said of the Fire TV. "It's not a market-changing product at all," he added, calling its integrating gaming capabilities a "wildcard."
But he said the market does have room for another entrant like the Fire TV, adding that Amazon would be smart to do all it can to tie the new product tightly to its retail ecosystem. "There's a lot of money to be made there," he said.
Still, he's not completely sold on voice-controlled interfaces. "It's relatively unproven in the market," Dixon said.
But it's a feature that Amazon is playing to the hilt in initial wave of promotions, including this somewhat strange, yet entertaining, video clip starring Gary Busey. "If you're like me, you like talking to things," he says…then it gets weird from there. But please take a look and judge for yourself...
And what did you think of the price point? Enough to move you to buy? I'll admit that I have more devices than I can use, but I couldn't resist.
The smarter way to stay on top of the multichannel video marketplace. Sign up below.