Palmer: Time to Facebook Live!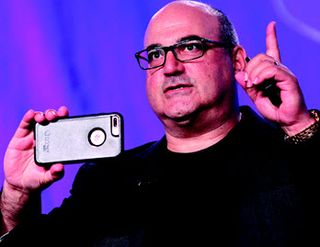 INDIANAPOLIS — Public speaking can be anything but easy.

Five minutes into his keynote presentation onstage at The Independent Show, industry consultant and futurist Shelly Palmer (pictured) made the best of a tough spot.

After the fog for a laser show had barely dissipated, jackhammers started pounding away on the roof, to the dismay of the speaker. Then, after a few minutes, fire alarm sirens and strobe lights started going off.

Then a Voice of God came to life on the PA system and tried to reassure Palmer that the fire alarm was being checked out, and it was probably a false alarm.

And in the words of the late Hunter S. Thompson, when the going gets rough, the weird turn pro.

Palmer whipped out his phone: "I think it's time for Facebook Live. This is one of those moments….

"This is really funny, I mean, you know, in a weird, completely 'are you kidding me?' kind of way," he continued. "In a minute, they're re going to tell me if I can finish my speech or what's behind door No. 2? Run like hell for the exit!"

Once on Facebook Live and streaming, he looked into his phone and began: "Hi, the strobes are going here. I'm onstage at NCTC. Here's everybody. Notice the strobes … We're live on Facebook right now. Wave everybody."

After a bit more of that inspired improv, Palmer said goodbye to the assembled online masses. The sirens stopped, and he resumed his talk.
The smarter way to stay on top of the multichannel video marketplace. Sign up below.
Thank you for signing up to Multichannel News. You will receive a verification email shortly.
There was a problem. Please refresh the page and try again.