Oscar-Nominated Films Become A Pirate Magnet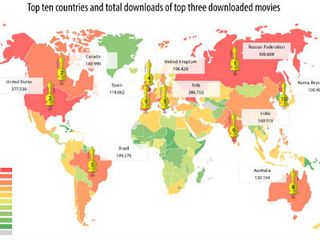 As millions of movie-lovers prepare to fill out their ballots ahead of Sunday night's Academy Awards, Irdeto checked in with some fresh data showing that piracy picked up sizably after the films nominated were announced.
Irdeto, the content protection specialist, monitors such things, and found a 385% increase in piracy worldwide for nominated films when the announcement was made in mid-January. Irdeto said it figured that out by tracking illegal download data from those titles across the U.S. and more than 200 countries using the company's automated crawlers, which use special software to identify users and files on the BitTorrent network.
While Gone Girl held an early lead, American Sniper surpassed it, with more than 1.38 million downloads during the period tracked -- January 15 through February 14. The report is available here.
Irdeto said about 36% of pirate copies came from retail Blu-ray and DVD discs during that period, while 31% came way of Hollywood screeners.
On that note, Irdeto said the six nominated movies (American Sniper, The Imitation Game, Wild, Selma, Whiplash and Still Alice) not available yet for retail purchase on Blu-Ray, DVD, VOD or legal streaming/download sites saw the highest levels of piracy from screeners. It further estimates that more than $40 million in retail revenue could have been captured if those titles were already available to consumers.
Irdeto cares about this in large part because it provides the kind of security that could support earlier digital distribution windows, something it's in favor of and believes Hollywood should be as well.
"In the world of internet re-distribution, the window between theatrical release and worldwide market availability may simply be too long, leaving room for pirates to take advantage and offer consumers alternative means of instant gratification," Rory O'Connor,Irdeto's VP of services, said in a statement about the company's findings. "Today's consumers simply refuse to wait to access these movies through legitimate services."
During the timeframe monitored by Irdeto, the U.S. led the way in illegal downloads, followed by Russia, Italy, the United Kingdom, Brazil, Canada, India, Australia, Spain, South Korea and the Netherlands.
This heat map (partly shown above and available in full here) offers a more granular view, breaking down by the top three Oscar-nominated movies downloaded on a country-by-country basis.
The smarter way to stay on top of the multichannel video marketplace. Sign up below.