Oculus Developing Standalone VR Headset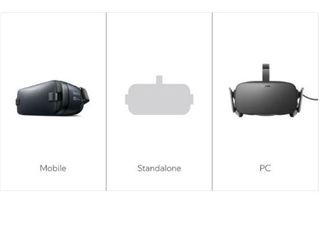 Seeking middle ground between the mobile-focused Samsung Gear VR and the high-end PC-tethered Oculus Rift, the Facebook-owned virtual reality company is working on standalone, wireless VR headset.
Speaking at the Oculus Connect 3 conference, Facebook CEO Mark Zuckerberg said the standalone platform is in the prototype phase and didn't announce when it will hit the market.
RELATED: Facebook to Spend $2 Billion to Acquire Oculus VR
"We're working on a standalone #VR experience." Tune in to the #OC3 keynotes, now LIVE: https://t.co/coMFPh8Bmspic.twitter.com/cz2SVOUPkn
— Oculus (@oculus) October 6, 2016
But Zuckerberg said the coming product would hit the "sweet spot" because it wouldn't be tethered to another device like the Rift, but will provide "inside-out tracking" – something that is not supported in the Oculus-powered Gear VR.
"We have a demo, but we don't have a product yet," he said, calling it a "completely new category of virtual reality product," according to Ars Technica.
That product plan comes as Google gets more aggressive in the market with its new mobile-based Daydream View headset and rumors that it has also been eyeing a self-contained VR platform that has reportedly been put on the backburner.
Oculus, which is dedicating $50 million to development this year, also announced in-ear headphones for the Rift that will cost $49 and ship December 6.
Oculus also introduced customizable avatars for a new Social platform for the Gear VR and Rift.
Hulu said its VR app is the first third-party media/entertainment app to support Oculus Social (and the personalized avatars) for the Gear VR and Rift, noting that it will also support the Oculus Touch controllers and positioning tracking supported by the Rift. Hulu released a sneak peek:
The smarter way to stay on top of the multichannel video marketplace. Sign up below.
Thank you for signing up to Multichannel News. You will receive a verification email shortly.
There was a problem. Please refresh the page and try again.