Non-Linear Video Keeps Lead Over Linear TV In Broadband Homes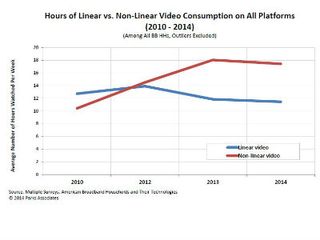 Linear video will never die, but it's clearly not the primary way consumers in broadband-connected homes are consuming their video.
Amplifying the trend toward video-on-demand, the DVR and over-the-top streaming services, Parks Associates said a new study found that the average U.S. broadband household watches 17.4 hours of non-linear video per week, versus 11.5 hours of linear video.
That's been the way of it for a while. A multi-year view of Parks Associates' surveys on the topic shows that non-linear video consumption surpassed linear in broadband homes around 2012.
Of the respondents in the most recent survey, 11% said they watch non-linear video exclusively.
"Non-linear video accounts for 49% of the video consumed on the TV, and it is already the majority, 60%, of TV video viewed by consumers 18-24," said Barbara Kraus, director of research at Parks Associates, in a statement. "Growing consumer demand, alongside new OTT service announcements from HBO and CBS, is driving all players in the video ecosystem to add streaming capabilities to their devices."
Parks Research also found that consumers in the 18-34 age group watch roughly half the amount of linear video as those who are 45 years old and older, and 6% of survey respondents aged 18-24 don't own a TV set.
In a comparative look-back, Parks found in 2010 that while 14% of respondents in the 18-34 age group didn't watch video on a TV set on a weekly basis, that figure rose to 25% by 2014.
In 2012, the average respondent watched 12.8 hours of broadcast TV on a TV set each week, a number that shrank to 10.1 hours by 2014, Parks Research found. During that same tim span, consumption of Internet video jumped from 1.6 hours to 2.9 hours.
Parks Associates released the study in part to call attention to the research firm-hosted Connections Summit at the Consumer Electronics Show on January 6 at the Venetian Ballrooms Level 1 (Casanova Rooms 601-603). Yep, it's already time to start thinking about CES!
Execs lined up for the "Streaming Media Devices in the Video Ecosystem" at 1:15 p.m. include: Michael Clegg, SVP and GM of service provider business, Netgear; Jim Denney, vice president, General Manager, Product Marketing, TiVo; Jim Funk, SVP, product management, Roku; Elad Nafshi, VP, video product management, Comcast; Michael Paull, VP of digital video, Amazon; and GW Shaw, vice president, U-verse and video Products, AT&T.
The smarter way to stay on top of the multichannel video marketplace. Sign up below.