No, the Sky Isn't Falling for the Cable Industry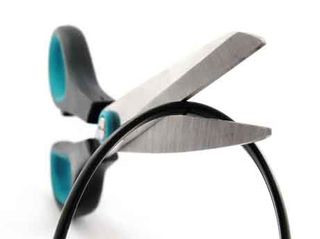 The media has a deep and abiding bias towards negative stories, particularly when they're about the supposed death of its own industry. Lately, we've been hearing a lot about the permanent collapse of cable television — a Google search on "cable television dying" results in roughly 650,000 doom-ridden articles.
The late, great The New York Times journalist David Carr once made a really smart observation about digital disruption of the media industry — it's tracked to file size. Starting with text (Kilobytes) and the newspaper industry, it progressed to MP3s (Megabytes) and the music business, and now all the headlines are about cable television (Gigabytes) and cord-cutters.
Based on what's going on today in the publishing and music industries, which have been negotiating the digital shift for several years now, we can make some educated guesses about the future of video consumption. Let's start with the news business.
Remember when Google was supposed to kill all the newspapers?
Don't tell that to The Guardian, whose impressive traffic numbers (over a 120 million uniques a month) are fueling an innovative paid membership strategy. And in a strong rebuke to the ridiculous 30% surcharge of Apple's App Store, The Guardian is also launching a new advertising alliance with CNN International, the Financial Times, Reuters and The Economist.
All of these news outlets recognize that they can't compete with social networks in terms of aggregation, so they make sure to offer informed perspectives, strong arguments and compelling entertainment that readers can't find anywhere else. These "companies formerly known as newspapers" are reinventing the way news is delivered by creating data-driven interactive set pieces (The New York Times's "Best and Worst Places to Grow Up") and encouraging offline participation (The Guardian's ambitious slate of live events).
They're not out of the woods yet, but any new media startup would envy their traffic and monthly active user numbers. According to the Pew Research Center, the majority of The New York Times's paid circulation now comes from digital sources (around 1.4 million readers).
Remember when pirates killed the music industry?
Don't tell that to Sony Music CEO Edgar Berger, who sounds notably upbeat about the promise of paid streaming subscriptions (which now account for over 23% of the global digital market) as well as the music business in general. He recently told Music Week: "The current trajectory is that the industry will inevitably grow, there's no doubt that paid subscription will be the predominant format in the market, the one that consumers will gravitate towards. The paid subscription is the fastest growing segment with 39% year-over-year growth, and we're seeing a 46% growth in users of paid subscription services. At the same time, downloads are declining as much as CD sales, roughly 8%, so the music industry is managing three transitions at the same time."
So yes, the music and revenue streams are both shifting course, but you have to credit the industry with partnering with technology firms to create ways of accessing music that are actually easier (and far less risky) than stealing it. And for providing simple, monthly subscription plans. That wasn't always the case.
Which brings us to poor old cable television, which is currently suffering the death of a thousand cord-cutters — or is it?
Nielsen recently suggested that cable subscribers who also have an over-the-top subscription video-on-demand service are actually more likely to drop the SVOD than they are cable. In fact, 93% of homes who had both services were more likely to keep the cable and instead drop broadband or SVOD offerings.
"Cable may have a little more staying power than it's actually being given credit for recently," said Glenn Enoch, Nielsen's senior vice president of audience insights.
Streaming video platforms continue to explode in popularity — all the major channels that haven't yet announced an over-the-top platform have one in the works. But as Holman Jenkins recently noted in The Wall Street Journal, "Shows do not become less valuable to viewers when viewers can control when and how to watch them."
And as it turns out, cable is still pretty sticky.
Nielsen says that TV viewing is down by 3% from last year, while video viewing on Internet, smartphone, and multimedia devices combined is up by 45%. But as media analyst Steve Sternberg recently noted in a smart blog post, a more telling statistic is that 91% of all video viewing is still to traditional TV (and more than 90% of that is live viewing). Even among the under-25 crowd, more than 80% of viewing is still to traditional television.
As Sternberg noted: Another way to look at it is that viewers spend nearly 5 1/2 hours per day watching television, compared to about 25 minutes per day watching video on the Internet and smartphones combined."
Television viewers aren't going anywhere — they're just demanding different digital services, and different ways of paying for the content they actually want to watch. The old 500-channel bundle, for instance, is going away. Saying goodbye to it might be painful in the short term (most cable subscribers only watch nine percent of what's available anyway), but it will eventually unlock more more smart, focused content bundles and revenue opportunities..
We're in the midst of a broad global shift from a manufacturing economy where companies sold products to strangers in isolated transactions, to a subscription-based economy where companies engage in ongoing relationships with their consumers. And the media industry has been at this game for a very long time.
So yes, things are definitely in flux, but the reports of cable TV's death remain greatly exaggerated.
Tien Tzuo is CEO of Zuora, a cloud software company helping businesses shift products to subscription services.
The smarter way to stay on top of the multichannel video marketplace. Sign up below.
Thank you for signing up to Multichannel News. You will receive a verification email shortly.
There was a problem. Please refresh the page and try again.